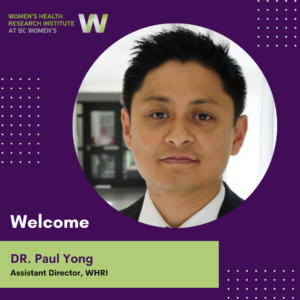 In February this year, we promoted the opportunity to lead with us through a new WHRI Assistant Director position. The WHRI is pleased to announce that Dr. Paul Yong has accepted this role, effective April 15, 2023.
Working within the WHRI Executive, this new role will lead the development, implementation, evaluation and reporting of the WHRI Strategic Framework for Trainees and Mentorship. Dr. Yong will collaborate with academic and Oak Street campus research institute partners to support and promote trainee and mentor excellence, focusing on mentorship opportunities and Graduate & Fellowship awards. We connected with Dr. Yong to discuss his experience and vision for women's health trainees.
What excites you about this role?
How has your experience working and engaging with trainees shaped your own research program?
What vision do you see for women's health research trainees in the future?
Dr. Paul Yong is a gynecologist with fellowship training in Endometriosis, Pelvic Pain and Advanced Laparoscopy, and Associate Professor in the UBC Department of Obstetrics and Gynaecology. Dr. Yong holds a Canada Research Chair (Tier 2) in Endometriosis and Pelvic Pain, and is Research Director at the BC Women's Centre for Pelvic Pain and Endometriosis.
As PI of the UBC Endometriosis and Pelvic Pain Laboratory, Dr. Yong leads a research program that focuses on local neurogenesis, somatic mutations, and central sensitization in endometriosis pain (with a focus on dyspareunia) which has been supported by CIHR, CFI, and Michael Smith Health Research BC. Other roles for Dr. Yong have included serving as co-chair of the gynecology clinical practice committee for the Society of Obstetricians and Gynaecologists of Canada (SOGC); on the early career board of the World Endometriosis Society (WES); and as a member of the EndoAct.ca.