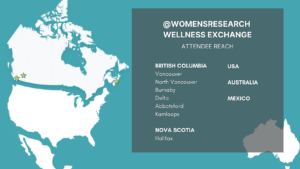 On December 10th the WHRI hosted its first virtual public event, the @WomensResearch Wellness Exchange.  We want to extend our sincere thanks to you, our community, for promoting it, our members and patient partners for presenting, and our Emcee Shirley Weir for facilitating.
We were thrilled to have 72 attendees at the event, representing a broad geographical area.  Including the Lower Mainland: Vancouver, North Vancouver, Burnaby, Delta, and Abbotsford. We especially saw the virtual accessibility through pan-Canadian and international attendees joining us from Kamloops, British Columbia; Halifax, Nova Scotia; Blaine Washington, Melbourne, Australia and Mexico.
We are committed to continuing to support the translation, dissemination and exchange of research with our public community.
Save-the-Date for our next public event on March 4, 2021!
If you missed the event, feel free to watch the full recording on our Facebook page.
Below is an outline of each presentation start time:
(00:16)
Your health, your answers: Finding reliable women's health information online and in print
Pamela Harrison Health Literacy Information Specialist at BC Children's Hospital & BC Women's Hospital + Health Centre and Beth Payne, PhD interim Digital Health Research Manager at the Women's Health Research Institute (WHRI), a Research Associate at the School of Population and Public Health at UBC and an adjunct assistant professor at the Julius Centre, Department of Epidemiology and Global Health at University Medical Centre Utrecht, the Netherlands.
(18:16)
Does Sex Hurt? It could be Endometriosis: the Sex, Pain & Endometriosis website
Kiran Parmar is a graduate student at UBC's School of Population and Public Health, and a Research Assistant for the BC Centre for Pelvic Pain and Endometriosis. Alanna Randhawa is an Emergency Medical Call Taker and Dispatcher for BC Ambulance who has recently joined as a member of the Patient Advisory Board at BC Women's Endometriosis and Pelvic Pain Laboratory.
(31:26)
For New and Expecting Parents: Teaching by Texting
Dr. Patricia Janssen, RN, BSN, MPH, PhD (Epidemiology): Professor, Perinatal Epidemiologist, and Co-lead of the Maternal Child Health Theme at the UBC School of Population and Public Health in British Columbia, Canada, and Senior Scholar at the BC Children's Hospital Research Institute. Trained in nursing and midwifery, Dr. Janssen leads Optimal Birth BC, a consortium of clinician-scientists and public health practitioners who work with health authorities to evaluate practice change for maternity care and to develop information resources for childbearing families. She is the founder of SmartMom and SmartParent, prenatal and parenting education programs delivered by text messaging to women and families in British Columbia.
(48:24)
Supporting Survivors, the Gynecologic Cancer Initiative, the GOSH Podcast
Nicole Keay is an experienced communications professional who has worked in healthcare, construction and telecommunications. She is also a patient parter with the Gynecologic Cancer Initiative (GCI) and co-hosts the newly launched Gynecologic Oncology Sharing Hub (GOSH) podcast. In her early 30s, Nicole was diagnosed with cervical cancer and underwent intense treatment including surgery, radiation and chemotherapy resulting in the loss of her fertility. Nicole now uses her experiences to help guide, support and be a voice for women who have been diagnosed with gynecological cancers. Stephanie Lam is the Research Coordinator for the Gynecologic Cancer Initiative (GCI), a province-wide initiative aimed to accelerate transformative research on the prevention, detection, treatment and survivorship of gynecologic cancers. ​She supports a broad range of research activities within the GCI including clinical trials, knowledge translation and educational programs. She also facilitates patient-oriented research projects including the Patient and Family Advisory Council and the GOSH Podcast.
(1:04:24)
Update on COVID-19 and Pregnancy: COVID-Preg Surveillance
Dr. Deborah Money is a Professor in the Department of Obstetrics and Gynecology, associate member in the Department of Medicine and the School of Population and Public Health, and active clinician and researcher in Reproductive Infectious Diseases. She trained with a BSc in Microbiology, then completed her MD followed by her residency in Obstetrics and Gynecology at UBC and a Fellowship in Infectious Diseases at the University of Washington.