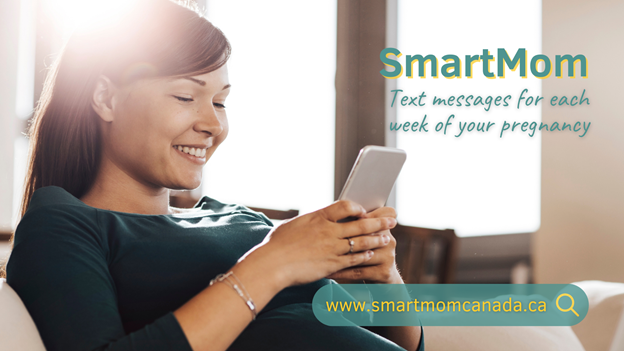 Prenatal education has been shown to increase attendance at routine prenatal care and acceptance of routine screening tests, reduce tobacco and alcohol consumption, and promote appropriate maternal weight gain. These behaviours in turn have been associated with reductions in rates of cesarean birth, preterm birth, and inadequate fetal growth. The COVID-19 pandemic has limited access to in person prenatal education classes and highlighted the demand for virtual education. With 95% of Canadians within cellular coverage, cell phones can be an effective way to connect expectant parents to accurate, reliable information and online resources. SmartMom removes barriers to traditional education related to rural and remote location, socio-economic disadvantage, and lack of instructors.
In 2017, UBC professor and lead of Optimal Birth BC, Dr. Patricia Janssen, launched the SmartMom program. SmartMom is a text-based program that delivers three SMS text messages per week tailored to the gestational age of participants. Additional supplemental message streams addressing topics such as mental health, pregnancy loss, and intimate partner violence can be subscribed to meet the specific needs of individual users. Expectant and new parents in BC participated in the development of the SmartMom program. Endorsed by the Society of Gynecologists and Obstetricians of Canada, it is Canada's first prenatal education program delivered by texting. Over 8000 women have subscribed to SmartMom in BC. SmartMom has resulted in statistically significant increases in knowledge and reduction in rates of prenatal depression and fear of childbirth.
The SmartParent program, just launched in the spring of 2021 offers parents evidence-based text messages to guide them through their first year of parenting. SmartParent has been endorsed by the Canadian Pediatric Society.  
Learn more and sign up for these programs at www.smartmomcanada.ca and www.smartparentcanada.ca
@smartmomcanada and @smartparentcanada on Facebook & Instagram
@SmartMom_Canada and @SmartParentCA on Twitter