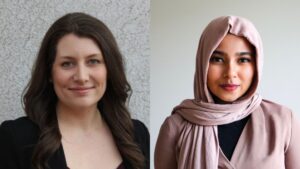 Dr. Sarah Munro is a qualitative health services researcher, whose focus is on knowledge translation and implementation science. Among her recent achievements, Dr. Munro's work on My Next Birth – an online decision aid for pregnancies following a cesarean section – was implemented by the Provincial Health Services Authority and featured in the Canadian media. You can also watch a brief video about her intervention.
In Spring 2021, Dr. Munro was a co-Principal Investigator on two successful projects: Improving access to family planning services for Indigenous peoples through storytelling (CIHR Project Grant), and Co-designing a mobile application with immigrant adolescents for better sexual and reproductive health (CIHR Early Career Investigator co-led with Dr. Salima Meherali).
Zeba Khan, a graduate research trainee at the Contraception & Abortion Research Team, is supporting both grants.
—
Q: What are your roles on these projects?
Munro: Access to family planning services is a challenge for many in BC. The pandemic has only exacerbated those barriers with reduced clinic hours, a shift to virtual care, and widespread strain on the health system. We have been partnering with Indigenous-led organizations and health care providers like Options for Sexual Health for some time, listening and lending our support. With CIHR's new funding for these projects, we are conducting collaborative, community-based research that addresses inequities in family planning access and explores innovative, culturally safe models of care.
Khan: I have been working with Dr. Munro for the past year, supporting various projects and grants as a volunteer. Recently, I stepped into the role of Research Coordinator to support these projects. I am a non-Indigenous settler in Canada, and I see this role as an opportunity to learn from the rich knowledges held by Indigenous peoples. I look forward to supporting the interactive process of knowledge exchange between health researchers and Indigenous groups, and foster equitable relationships built on mutual trust and integrity. I am also building relationships with health and social service organizations to understand the sexual and reproductive health needs of immigrant and newcomer youth.
Q: Can you tell us a little bit about these projects?
Munro: These are integrated knowledge translation projects where knowledge partners collaborate in all aspects of the work, from identifying the issue to designing the study to interpreting and acting on results. Over the next year, the first phase of these projects will involves listening and building relationships with patient partners, community members, and other folks who support clients of contraception and abortion care. We'll start by convening an advisory of Indigenous birth workers, Elders, and youth to guide our first project. These steps will be led by my co-PI's (Miranda Kelly, Danette Jubinville, and Unjali Malhotra) who represent Indigenous-led organizations — the Vancouver Coastal Health Aboriginal Health team, ekw'i7tl doula collective, and First Nations Health Authority. We'll take a similar approach for our second project with immigrant and newcomer youth. In the first phase of that grant we'll be convening workshops with stakeholders to help us design and conduct a needs assessment to understand sexual and reproductive health needs of immigrant adolescents. In BC, our team is doing this work in partnership with Options for Sexual Health, which has been a long standing supporter of our research to improve family planning service access and outcomes.
Khan: Early next year, I plan to start my Master's project, funded by the Vancouver Foundation, UBC Community University Engagement Support (CUES) fund, and Mitacs. This project will investigate the barriers faced by immigrant youth in accessing sexual and reproductive care in BC. We already did some work to build connections with community organizations that provide these services. Over the next few months, I will be co-developing the research tools with these community partners through a series of workshops. These community-based partnerships are so critical to the research to ensure that we're asking the relevant questions in a culturally safe way.
Q: What motivated you to do this research?
Khan: I have been an advocate for access to equitable reproductive health for the past five years. In my advocacy work, I noticed that grassroots community organizations often lacked the research data they needed to amplify their work. I saw a fantastic opportunity for researchers and community organizations to co-create knowledge that can translate to action. I learned about Dr. Munro's work with the Contraception & Abortion Research Team, and saw an immediate alignment between my research interests, and the projects she was working on.
I am grateful to be working on projects where we are committed to cultivating ethical spaces for knowledge-sharing.
Munro: Who motivates me to do this research is our partners. It's a privilege to be invited to do this work and I'm motivated by their passion and commitment.
Q: What impact do you hope to make with your work?
Munro: Our hope is that storytelling about access to family planning care and our integrated KT partnerships will catalyze change at a health system level and lead to better access to care for patients. In our first project we hope to identify models of family planning care for Indigenous communities that are trauma-informed, culturally safe, and gender affirming. The second project will also lead to an app that will provide a culturally relevant, easy to use resource that addresses unmet needs and improves the sexual and reproductive health of immigrant adolescents across Canada.
Q: Where can we learn more about this work?
Learn about our projects on Twitter by following @DrSarahMunro.