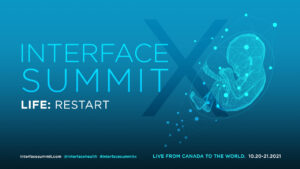 The Women's Health Research Institute is a proud community partner of the 2021 INTERFACE Summit X.
Canada's Top Digital Health Conference focused on the future of health through technology, innovation and social impact.
This is a must-attend event for anyone interested in how digital technologies can help women's health.
Discover world-class speakers. Share world-changing ideas. Meet like-minded people. 
What: LIFE: RESTART. From Known to Unknown. The Past, The Present and The Future of Digital Health
When: Oct. 20-21, 2021
Where: Online on Zoom
Use the promo code BCWHRI to save $50 off the regular ticket price.
Follow news, updates, alerts @interfacehealth #interfacesummitx