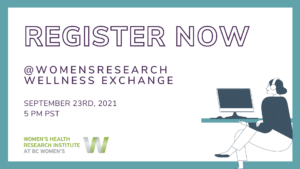 Join us for a FREE virtual public event on September 23rd at 5:00 pm PST. 
This event will feature presentations on user-centered digital support tools related to perinatal, reproductive, and miscarriage health care.
Learn about a text-messaging prenatal education program; a digital decision aid for giving birth after a caesarean section; a new video and set of resources for people who have experienced miscarriage; and a digital platform to provide support for post-abortion care. We have an exciting lineup of experts in women's health, including Dr. Roopan Gill, Dr. Patti Janssen, Dr. Astrid Christoffersen-Deb, and Dr. Sarah Munro who will be available for an audience Q&A – register now to save your spot!
Zoom details will be delivered to all registered guests which will enable you to engage directly with members of the research community. The event will also be streamed live via the Women's Health Research Institute Facebook page.
AGENDA
Introductory Remarks | Dr. Lori Brotto and Shirley Weir
Using Video to Break the Silence Around Miscarriage | Dr. Astrid Christoffersen-Deb + AJ Murray
SmartMom: Prenatal Teaching by Texting | Dr. Patti Janssen
Patient-Oriented Decision Aids | Dr. Sarah Munro + Zeba Khan
myPostCare – Example of a digital health tool to demonstrate why user-centered, community-led research is pivotal to design, development and implementation for abortion and contraception self-care. | Dr. Roopan Gill
Q&A