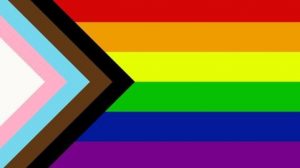 UPDATE: April, 2022
Since publishing this web story, the Women's Health Research Institute has remained committed to finding ways to support research that is inclusive of all bodies that may benefit from it. As part of this work, Dr. Angela Kaida (Women's Health Research Institute) and Bev Pomeroy (Island Health, Experience) are co-leading a project titled Beyond the Binary: Taking a patient-oriented and trauma-informed approach to building partnerships and dialogue to incorporate gender equity into women's health research. This is a multi-stakeholder, participatory project intended to inform guidance for gender-equitable practice within BC's women's health research community. Through collaboration with people from intersecting trans, non-binary, intersex, Two-Spirit, queer, research, health, ethics, and academic communities, we aim to develop context-specific guidance, resources, and recommendations for researchers and health decision-makers.
You can stay up to date with the Beyond the Binary project here.
In November 2019, the WHRI released its new Strategic Plan. The new plan prioritizes equity and inclusivity, and shares our commitment to respect, work alongside, collaborate with, and support the health of women across the LGBTQIA2S+ spectrum. The plan also announced our new core values, among which are equity, diversity, and inclusivity.
Behind these statements is the recognition that women's health research is needed by more than just cisgender women (women whose gender aligns with their assigned sex at birth). Trans women are often left out of women's health conversations, and trans men and non-binary people also have health needs that our work addresses.
Over the next few months, we will be sharing examples of work carried out by our membership that reflect this commitment. This piece, featuring the EC Ella study, is an important demonstration of these values, and serves as a reminder to think critically about sex and gender and to identify and challenge cisnormativity when we encounter it.
By Melissa Nelson, AJ Murray, Dr. Michelle Chan, and A.J. Lowik
---
As the Women's Health Research Institute, using gender inclusive language in research materials might seem counter-intuitive.
The 'W' in WHRI is politically charged. Only in recent years has the need for women's health research been recognized, and often we still need to fight for the importance of our work to be recognized by funders and other institutions.
The 'W' symbolizes the political need to bring women into our lexicon, to remind people that men are not the standard upon which we can understand women's health. The 'W' in our name is important. It has been hard-fought for, and it reminds us of the work needed to ensure the health of women everywhere.
But the 'W' also poses a challenge. There are people across the gender spectrum who need our research — people for whom the 'W' is exclusionary. How can we move forward in a way that respects the importance of women's health research, but is also inclusive of people who are not woman-identified?
This is a question that Dr. Michelle Chan recently grappled with. Michelle is a Family Planning Fellow in the Advanced Training Program in Family Planning at UBC, and the Principal Investigator on the EC Ella study[i]. Ella, also known as Ulipristal Acetate, is a prescription-only form of emergency contraception. The study aimed to explore the experiences of emergency contraceptive pill use as perceived by prescribers, pharmacists, and patients.
When designing the study, Michelle knew that using an inclusive, feminist qualitative lens was important. This decision not only meant using non-judgemental language to reframe conversations about emergency contraception (e.g., condomless or non-contracepted instead of unprotected sex), but also ensuring that recruitment materials were designed thoughtfully and inclusive of participants who did not identify as women.
In order for a patient to be eligible to participate in the study, they had to be able to become pregnant. The language that Michelle initially submitted to Ethics was accepted, but she was worried it might not respectfully invite people of all genders to participate.  Recognizing the importance of including all voices in research, Michelle reached out to Nicole Prestley, Manager, Research + Knowledge Translation, for guidance.
Nicole connected Michelle with AJ Murray, a Knowledge Translation Coordinator at BC Women's Hospital. AJ has extensive experience consulting with members of both the hospital and WHRI for a variety of communications needs, and recognized this to be an important opportunity for change.
"Gendered language can be restrictive for more than just people who identify as trans or non-binary," AJ explained. "Inclusive language also benefits a lot of cisgender women who don't like being called 'lady'; who don't like checking the Ms, Mr, or Mrs box; or who don't want to be identified by their gender because they have experienced discrimination."
AJ added that inclusive language can also be an important demonstration of allyship on the part of friends and loved ones of trans or non-binary people, as well as people who care about social justice or feminism. Efforts to acknowledge participants by using language which makes them feel safe, respected, and included by the research community can benefit everyone.
"Language for research versus language for clinical care — [it] is totally different – with patients you can actively listen, or use the terms they use," AJ explained. "There's a gap there in how we talk about gender in systems, theory, or institutional procedures."
Unfortunately, there is a lack of research-specific information on inclusive language and practice. Organizations like Trans Care BC or the Canadian Professional Association for Transgender Health (CPATH) are fantastic resources for patients or clinicians, but there is no clear equivalent for the research community.
In the case of ECElla, this gap in resources was bridged by connecting people who had experience using inclusive language outside of clinical practice. After consulting with AJ, staff at the WHRI, and Options for Sexual Health, Michelle settled on inclusive language that placed emphasis on risk of pregnancy rather than gender, and resubmitted her materials to Ethics.
The impact of this change was powerful.
During the ECElla interviews, several people told Michelle they really appreciated the inclusive language she used in her recruitment materials – they said it made them feel actively invited to participate.
Navigating sex and gender in research in a way that is conscious of all genders is complicated, but as this example demonstrates, incredibly impactful. Reflecting on the experience, Michelle and AJ shared some of their advice for other research teams.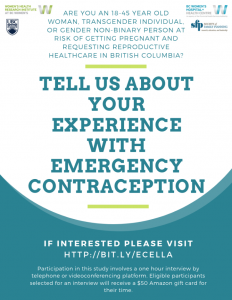 AJ suggested sharing your work with others who have experience with inclusive language before you finalize it, to ensure that terms are clear and respectful. And, importantly, ensure that questions about gender, sex and sexuality are constructed thoughtfully, and serve a specific purpose. When asking for sensitive information, AJ also suggested explaining to participants the purpose for collecting this information, and allowing them to opt-out of these questions.
"Looking back, if I were to do it again, I think I would want to include [AJ] before I did my [initial] ethics submission," Michelle offered. Moving forward from this experience, she will continue to think about ways to make her work more intersectional and inclusive.
"I am in a privileged position in medicine and in research, so how can I utilize that to make disruptions on how we usually think and practice?"
For more information on gender identity and inclusive language, check out some of the resources below:
Recommended Reading guide presented by WPATH (World Professional Association for Transgender Health)
 How should you address a new patient? This flyer breaks down gender inclusive language and how to use it in a respectful and professional way.
This page by Options for Sexual Health provides an overview of pronouns and why they matter.
This page by Options for Sexual Health provides a general understanding of gender identity, gender expression, sex assigned at birth, and physical and emotional attraction
This handbook developed by Planned Parenthood is a continually updated document that is a framework for new language, emerging community needs, staff training, and a guide to providing respectful, competent, and informed care to patients in a healthcare setting.
This manual, produced for Options for Sexual Health and adapted for use across Canada, breaks down myths around trans people's reproduction and provides guidance on trans-inclusive abortion provision. The manual includes a plethora of resources and BC-specific trans, sexual health, and reproductive health organizations.
Trans Care BC has curated a variety of clinical resources to support those who want to provide gender-affirming care, or provide support to patients who wish to access gender-affirming care. This link includes online resources, articles on medical care for youth, and primary care tools (including a gender-affirming primary care toolkit, questions for patients seeking hormone therapy, and sexual health screening strategies).
Trans Care BC also offers a variety of support tools and resources for those who are new to the concept of gender diversity, inclusion, and providing gender-affirming care.
PHSA employees can access a 30 or 60 minute Trans Care BC introductory training course designed for service providers, staff, and students working with transgender, non-binary, and gender diverse Two-Spirit individuals. The courses offer insight on key terms and concepts related to gender diversity, barriers to care that gender diverse people commonly face, and Simple strategies for creating accessible and affirming services.
Rainbow Health Ontario has several resources available for those who want to conduct research involving people who identify as LGBTQ+. Note that some terminology in these resources is outdated.
---
The Women's Health Research Institute would like to extend its gratitude to AJ Murray, Dr. Michelle Chan, and A.J. Lowik for their support, guidance, and editorial assistance with this piece.
AJ Murray is the knowledge translation coordinator in Population Health Promotion at BC Women's Hospital + Health Centre. Much of AJ's work centres on working with researchers and clinicians to develop patient-facing, plain language and evidence-based health information for BC Women's patients and the public.
Michelle Chan completed her Obstetrics and Gynecology residency at the University of Alberta in 2018 and medical school at the University of Calgary. She is currently a family planning fellow at the University of British Columbia with further focus in contraception care for medically complex patients and advanced abortion care. Michelle is also enrolled in a Masters of Health Sciences program at UBC. Her professional research interests include: feminist inquiry, social justice and advocacy.
A.J. Lowik is a PhD Candidate with the Institute for Gender, Race, Sexuality and Social Justice at the University of British Columbia, where their research focuses on trans people's reproductive lives, health and decision-making. They are a freelance trans-inclusion consultant, and you can learn more about their research, teaching and consultancy work at the following link.
[i] This study is not affiliated with any industry support.