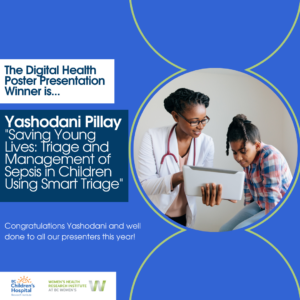 This year the Women's Health Research Institute and the BC Children's Hospital Research Institute partnered to host a series of events celebrating digital health innovation in BC aiming to improve the health and well-being of children and families around the world.
The theme of this year's event was "How Can Digital Health Work for You?" This theme was chosen to highlight the important role that digital technology will have in advancing human health and health care and also the place we all have in ensuring these innovative advancement benefit our community. We heard from investigators and healthcare leaders from both institutions and from industry and government partners about the inspiring work being led here in BC with potential to improve lives globally using digital technology.
A core component of our Digital Health Week events was a virtual trainee poster competition. We are delighted to announce Yashodani Pillay as the winner of this year's Best Poster award for her project titled "Saving Young Lives: Triage and Management of Sepsis in Children Using Smart Triage." Thank you to our sponsor, Careteam Technologies, and congratulations Yashodani!
The trainee posters are still online and you can view all the presentation videos below.
To learn more about what WHRI is doing in digital health, click here.
Digital health Week Poster Presentations