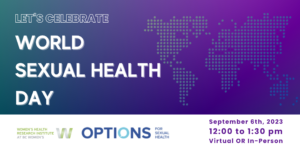 VANCOUVER, Canada — On September 6th, the WHRI, in partnership with Options for Sexual Health, celebrated World Sexual Health Day (WSHD) by showcasing trainees' sexual health-themes research at any stage. WSHD is an annual event that's recognized by the World Health Organization. The theme for WSHD this year was "Consent".
0:05 — Dr. Lori Brotto, WHRI Executive Director, began the event by raising the awareness about FRIES, an acronym popularized by Planned Parenthood. FRIES is used to illustrate the components of consent by helping us to understand and communicate about consent in sexual encounters:
F – Freely Given

R – Reversible

I – Informed

E – Enthusiastic

S – Specific
6:52 — This was followed by a presentation from Nicole Pasquino, Clinical Practice Director, about Options for Sexual Health's programs and impact, as they recently celebrated a 60th Anniversary.
11:52 — We were thrilled to accept 13 trainee abstracts that were presented in 5 minute segments. Our event co-organizers and session moderators, Hattie Zhang, Sara Cole, and Orli Hellerstein, categorized the presenters into three: 1) Sexual Wellbeing, 2) Sexual Health, 3) Treatments in Sexual Health.
The full program included:
Session 1: Sexual Wellbeing
12:14 — Jennifer Zhang, "Access to Emergency Services in First Trimester Medication Abortion Clinical Practice Guidelines: A Scoping Review Protocol"
Jennifer Zhang is a second year medical student at UBC and a student researcher with the Contraception and Abortion Research Team and the Phase Lab.
17:59 — Cindy Zhang, "Associations Between Perceived Injustice and Sexual Health Outcomes in Couples Coping with Vulvar Lichen Sclerosus"
Cindy is a 4th year undergraduate Psychology student at the University of British Columbia.
23:09 — Stephanie Chen, "Emotion Regulation and Sexual Communication in Couples Coping with Vulvar Lichen Sclerosus"
Stephanie is a fifth-year undergraduate student studying psychology at the University of British Columbia.

28:01 — Denise Zhu, "Influence of Ethnic Differences and Partnered Sexual Activity Status on Sexual Well-Being among Chinese and White Women"
Denise is an undergraduate student at the University of British Columbia studying Behavioural Neuroscience.
32:48 — Kate Hunker, "Exploring the Relationship between Sexual Script Flexibility and Sexual Health in a Dyadic Sample"
Kate Hunker is a first year MSc student in the Women+ and Children's Health Sciences program, supervised by Dr. Katrina Bouchard.
 Session 2: Sexual Health
42:27 — Carly Johnston, "Developing and Testing Brief Patient Education Videos for Vulvar Lichen Sclerosus"
Carly is a 4th year medical student at the Vancouver campus at UBC.
47:03 — Orli Hellerstein, "Different Strokes for Different Folks?: Examining Experiences of Sexual Interest/Arousal Disorder In Genderdiverse Individuals"
Orli Hellerstein is a rising 3rd year honors student in the UBC psychology department.
51:47 — Avrilynn Ding, "Pain with Orgasm in Endometriosis: Clinical Correlates and Potential Etiological Factors"
Avrilynn is a third-year Obstetrics & Gynaecology resident at the University of British Columbia.

58:28 — Vani Guglani & Harsimran Bhattal, "Incidence of Early Pregnancy Loss among Contemporary Populations: A Descriptive Systematic Review"
Vani has a BSc in Biology and is currently a second year student in the UBC Doctor of Pharmacy program.
Harsimran is a fourth year UBC Doctor of Pharmacy student.
Session 3: Treatments in Sexual Health
1:08:07 — Ishika Bhambhani, Aishawarya Heran, and Lin Tong, "The Role of Doulas in Abortion and Contraception Care: An International Scoping Review"
Ishika Bhambhani (she/her) graduated from UBC – Okanagan with a BSc in Psychology and Biology in 2022.
Aishwarya Heran is a second-year BSc student and Loran Scholar at McGill University from Vancouver, BC.
Lin Tong (they/them) is a fourth-year baccalaureate nursing student engaged as a research assistant with the UNB chapter of the UBC Contraception and Abortion Research Team.

1:14:27 — Irene Luong, and Harman Waring, "The Acceptability of Contraception Task-Sharing among Pharmacists in BC (ACT-Pharm II) Survey"
Irene Luong and Harman Waring are third-year Pharmacy students at the University of British Columbia.
1:19:27 — Rael Gumbe, "Sexual Health Resource Database for People Residing in Nairobi, Kenya"
Rael Gumbe is a masters student at UBC studying biomedical engineering.
1:26:00 — Hattie Zhang, "The Patient Woman or the Woman Patient: Examining the Demographic Differences Between Women Seeking and Not Seeking Treatment for Sexual Dysfunction "
Hattie is a Directed Studies student for UBC Sexual Health Research and a psychology major in her final year of study.
Thank you to all the trainees who presented and supervisors who support this work. We saw representations from Dr. Katrina Bouchard's Perinatal Anxiety Research Lab (PHASE Lab), Dr. Lori Brotto's  UBC Sexual Health Research Lab (UBC SHR Lab), Dr. Wendy Norman's Contraception and Abortion Research Team (CART-GRAC).
We look forward to seeing you in 2024!
If you weren't able to attend, please check out the recording on our YouTube channel.
Check out some photos from social.