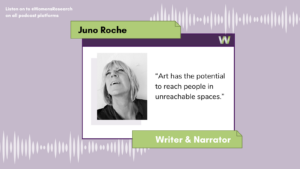 "Exploring arts-based knowledge translation with the HIV Made Me Fabulous team" features guests Dr. Angela Kaida (Film Co-Producer), Juno Roche (Film Writer and Narrator), and Edmond Kilpatrick (Film Director and Co-Producer), alongside host and team member Azra Bhanji. 
Before listening to the podcast and reading this blog, we encourage you to watch the 10 minute film at https://www.lifeandlovewithhiv.ca/film
In this episode, @WomensResearch podcast guests reflect on the process, lessons learned, and impact of their film, HIV Made Me Fabulous. The film uses a central technique called embodied storytelling, which aims to create an emotional experience to supplement story narration. Edmond speaks about his intentions to bring Juno's words to life using authentic movements of the characters in the film. In addition to the thoughtful movements, character selection was an important process; Edmond wanted viewers to be able to see themselves through both Juno's words and conveyed through the diversity of characters.
Angela also expresses the importance of this film for disseminating critical research findings and information about living with HIV. Compared to traditional scientific approaches to knowledge translation, the film explores an arts-based approach to catalyzing and changing the conversation around HIV. Fundamentally, the film is a chance for the audience to engage in discussion.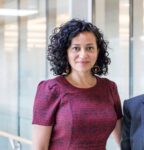 Juno Roche is an internationally-recognized writer and campaigner whose work centres on class, gender, sexuality and trans lives. She is the Founder of Trans Workers UK and the Trans Teachers Network. In her role as the film writer and narrator, Juno affirms how safe she felt with Edmond during the initial collaborative process of writing the film, who wanted to honour her story and lived experience with HIV. Their teamwork highlights how humility and trust was critical for developing this film, allowing them to create a beautiful final product. 
To close the episode, the team discusses the power of using art as a tool for knowledge translation in a political climate. Angela emphasizes that research is political; the work exists in societies where power dynamics weigh heavily on the realities of the people involved. By using art as a medium to share research findings, it opens up the opportunities for people to emotionally connect and learn.
Learn more about the film