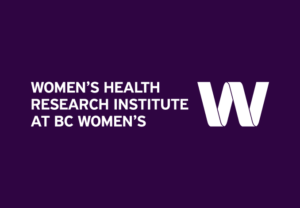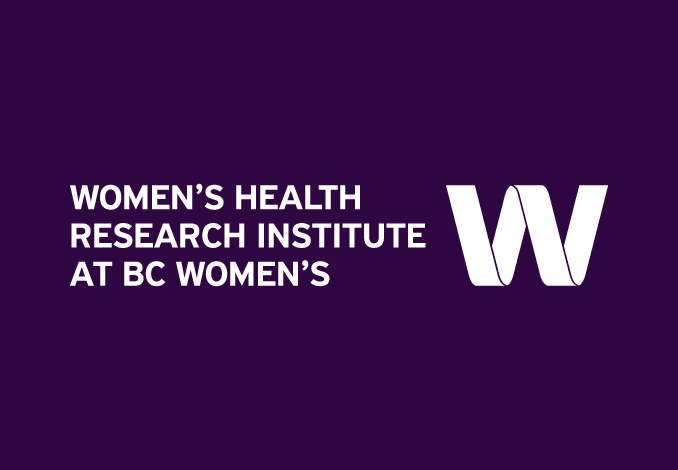 On Wednesday, March 9th the Women's Health Research Institute held its Seventh Annual Women's Health Research Symposium. This year, the event was held both virtually and in-person at the Robert H. Lee Alumni Centre at the University of British Columbia, marking the first in-person event for the institute since the COVID-19 pandemic was declared in 2020. There were over 100 people who attended the event in-person, while 86 people joined in virtually (via live-stream).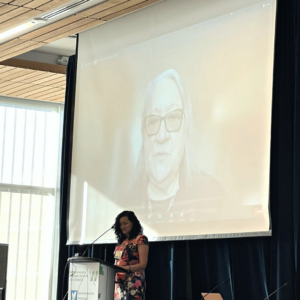 The theme, From Cell to Society: Women's Health Research to Address Shared Global Challenges, centred on catalyzing women's health research to address shared global health challenges with an emphasis on the scale, spread and impact of local research at the global level. The day concluded with an awards ceremony, which celebrated three champions of work in this area: Dr. Julia Smith (Early Career Researcher), Dr. Mark Ansermino (Later Career Researcher), and SANTHE (the Sub-Saharan African Network for TB/HIV Research Excellence; Global Partner).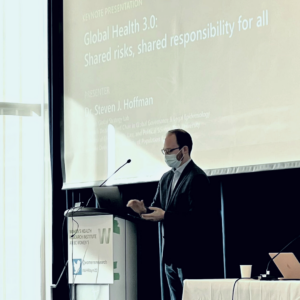 Other highlights from the day included a keynote talk from Dr. Steven J. Hoffman, Director, Global Strategy Lab and Scientific Director, CIHR Institute of Population and Public Health, who encouraged attendees to reframe 'global health' as a lens for all kinds of research, centering equity and collective action. The program also featured Dr. Jennifer Gardy, Deputy Director, Surveillance, Data, and Epidemiology with the Bill and Melinda Gates Foundation's Malaria Team, on the importance of being gender-intentional in our work and why eradicating malaria is a matter of gender equity. 
The event also featured a lively panel discussion which probed the question of the relevance of local women's health research to address global challenges. The panel was moderated by Dr. Mark Ansermino (Director, Centre for International Child Health, BC Children's Hospital; Professor, UBC Department of Anesthesiology, Pharmacology & Therapeutics). Panelists included Dr. Astrid Christoffersen-Deb (Medical Director, Population and Global Health, BC Women's Hospital + Health Centre), Dr. Chonnettia Jones (Vice President, Research, Michael Smith Health Research BC) and Dr. Liisa Galea (Professor, UBC Department of Psychology; member of the UBC Centre for Brain Health). A number of sessions throughout the day featured presentations by PHSA-affiliated researchers, including Dr. Paul Yong (Research Director, BC Women's Centre for Pelvic Pain & Endometriosis) and Dr. Marianne Vidler (Investigator, BC Children's Hospital Research Institute)..
For a more detailed recap of the day's presentations, check out this Twitter Moment compiled by the Women's Health Research Institute.
The event was sponsored by the Provincial Health Services Authority (PHSA), BC Women's Health Foundation and BC Women's Hospital.