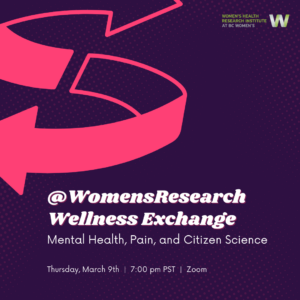 Join us for a free public event featuring presentations on mental health, pain, and citizen science!
The event will take place March 9th at 7:00pm PST and will be held virtually via Zoom and streamed live on our Facebook page.
Moderated by Shirley Weir, our exciting lineup features Allison Hoens, Dr. Heather Palis, Dr. Linda Li, and Dr. Lori Brotto.
How can you
get involved?
The WHRI is proud to host bi-annual public events, the @WomensResearch Wellness Exchange. These events directly support our strategic aim to Increase and Promote Research Translation, Implementation, and Communication to ensure that women's health research is informed by women's voices and flows back to women's lives. This aim is guided by our Strategic Frameworks for Knowledge Translation and Patient Engagement. 
The @WomensResearch Wellness Exchange are FREE events that deliver the latest evidence directly to the public.
Do you have research ready for dissemination to a public audience?