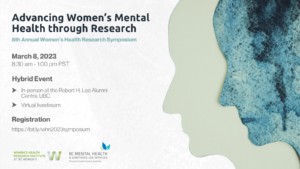 Advancing Women's Mental Health through Research
When: Wednesday, March 8 | 8:30 am – 1:00 pm PST
Where: In-person (Robert H. Lee Alumni Centre) + Virtual
We would like to invite you to the upcoming Eighth Annual Women's Health Research Symposium to be held in-person (at the Robert H. Lee Alumni Centre on the UBC campus) and virtually (via live-stream) on Wednesday, March 8, 2023.
This event is being co-hosted by the Women's Health Research Institute and the BC Mental Health and Substance Use Services Research Institute. The theme of this year's event focuses on advancing women's mental health through research and will be an opportunity to energize and inspire the BC women's research community and to spark ideas for future research collaborations.
We are also now accepting submissions for the poster session that will take place during the event. Additional information about poster submission can be found here.
Please note that we will be hosting both a trainee-focused presentation and a mentorship and networking event for trainees engaged in women's health research directly after the main symposium program.
More information on the program and speakers can be found here.
To register for the symposium, please click the following link: https://events.eply.com/whri2023
We very much look forward to seeing you at the Symposium!