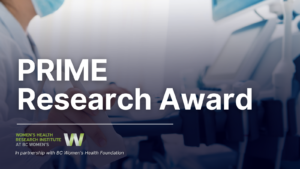 Award amount: $11,250
Application Deadline: March 1, 2023 11 PM PDT
Anticipated Notice of Decision: April 12, 2023
Funding Start Date: April 14, 2023
The Women's Health Research Institute (WHRI), in partnership with the BC Women's Health Foundation, is pleased to announce the first PRIME Centre Research Award competition for the advancement of knowledge in maternal, fetal and neonatal health. 
A total of two awards will be given at $11,250 each. This research award is an open competition with respect to funding a project in maternal, fetal or newborn health. 
Awards are open to BC researchers at a university or research hospital setting, but candidates must be a member of the WHRI. Eligible researchers include post-doctoral fellows, clinical fellows, research associates, clinician scientists and academic researchers who are engaged in maternal, fetal and/or newborn health research and whose proposed studies will be carried out within the PRIME Centre using facility resources.
PERINATAL RESEARCH IMAGING EVALUATION (PRIME) CENTRE RESEARCH AWARD
Download application instructions ⭳
Submission Instructions
The application is due on March 1, 2023 at 11pm PDT. Email a copy of the application in PDF to carola.munoz@cw.bc.ca.
Questions about the application process can be sent to Carola Muñoz (carola.munoz@cw.bc.ca).