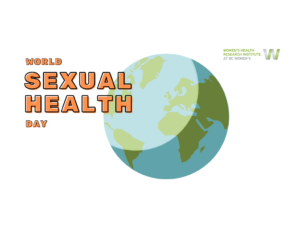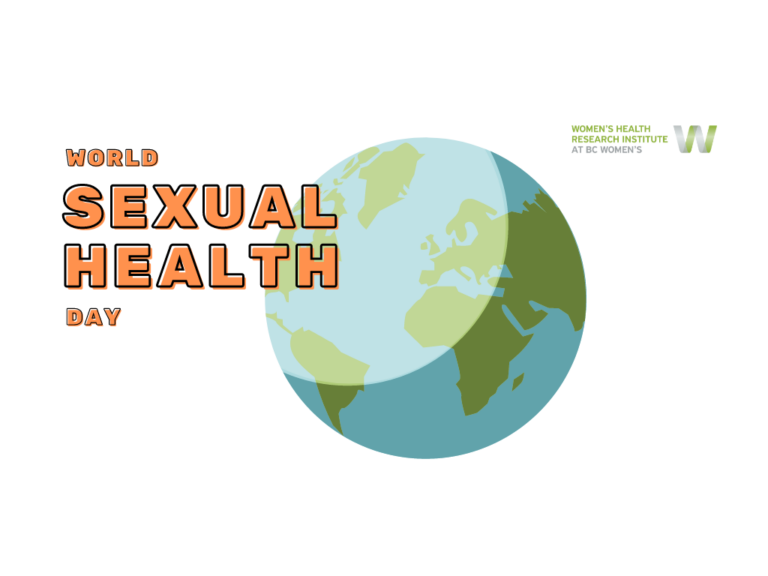 World Sexual Health Day 2021
World Sexual Health Day is an awareness day managed by the World Association for Sexual Health (WAS), a global advocacy organization committed to promoting best practices in sexual health. It is celebrated annually on September 4th and attempts to break down social and cultural taboos associated with sexuality and to promote positive sexual health around the world. This year, the theme is "Turn it on: Sexual health in a digital world," which inspires the need to awaken awareness of sexual health rights, while also recognizing the harms and violations of sexual rights in the digital sphere.
We invite you to celebrate #WorldSexualHealthDay2021 with us on Friday September 10th from 12:00 to 1:30 pm.  The event will showcase sexual health research led by women's health trainees across British Columbia and feature special guests from  Options for Sexual Health.
Introduction, Land acknowledgement & Remarks
Dr. Lori Brotto, WHRI, and Michelle Fortin, Options for Sexual Health
Paying Attention to Sex in a Digital World
Title: Context matters, but more so for women: The effects of gender and sexual activity cues on men and women's attention to sexual stimuli
Presenter: Kiarah O'Kane
Co-Authors: Sonia Milani, Meredith L. Chivers, Samantha J. Dawson
Kiarah (she/they) completed her Bachelor of Arts in Psychology at the University of British Columbia in 2020, and is a trainee at the Sexuality and Well-being Lab and a study coordinator at the UBC Sexual Health Lab. Her research interests include gender, sexual orientation, developing online interventions, and using methods such as eye-tracking to better understand sexual response. Kiarah is also passionate about implementing an intersectional lens into psychological research, and is co-chair of UBC Psychology's Intersectional Perspectives in Psychology Journal Club.

Title: Links between attention to sexual cues during sex and sexual desire among pregnant couples
Presenter: Sonia Milani
Co-Authors: Natalie O. Rosen, Samantha J. Dawson
Title: The effect counselling on pregnant women based on PLISSIT model on sexual life quality and sexual satisfaction of couples during pregnancy
Presenter: Khadigeh Mirzaii 
digital innovation in sexual health
Title: Virtual Reality erotica: Arousing or anxiety-provoking?
Presenter: Natalie B. Brown
Co-Authors: Sonia Milani, Faith Jabs, Lori A. Brotto, Alan Kingstone
Natalie is a second-year PhD student in the UBC Clinical Psychology program, working under the supervision of Drs. Lori Brotto and Alan Kingstone. She completed her MA in Clinical Psychology at UBC in 2019, and her thesis explored the cognitive mechanisms underlying sexual attraction and desire, with a specific focus on asexuality and Sexual Interest/Arousal Disorder. Her PhD research will evaluate virtual reality erotica as a clinical tool for individuals with Genito-pelvic Pain/pPenetration Disorder (GPPPD). Overall, her research program aims to improve our understanding of sexual health and develop evidence-based interventions for sexual concerns.

Title: "I had to keep advocating for myself" – The need for new digital health resources to support self-management of endometriosis and painful sex
Presenter: Kiran Parmar
Co-Authors: Fuchsia Howard, Bita Gholamian, Ria Nishikawara, Leah Tannock, Endometriosis Patient Advisory Board, Heather Noga, Paul Yong
Kiran Parmar is a graduate student at UBC's School of Population and Public Health and is a research assistant in the Endometriosis and Pelvic Pain Laboratory. As a research assistant, Kiran has been coordinating patient-oriented, knowledge translation projects related to endometriosis and painful sex. 

Title: #DebunkingDesire: Sexual Science, Social Media, and Strategy in the Pursuit of Knowledge Dissemination
Presenter: Brynn Lavery
Brynn has a Bachelor of Arts degree in Psychology from UBC and is the Social Media Coordinator for the #DebunkingDesire campaign and has been managing the UBC Sexual Health Research social media for the past two years. She has worked to disseminate research findings from the team's various studies and understands how important it is to connect researchers with the public in improving sexual health awareness. She oversaw the dissemination of campaign materials on social media and organized events on #DebunkingDesire. 
Title: Exploring the link between misconceptions about sex and sexual well-being
Presenter: Anthony Yuen
Co-Authors: Kiarah M. K. O'Kane, Aly M. Moscovitz, Samantha J. Dawson
Anthony is a fifth-year Bachelor of Science student at UBC and a research assistant with the Sexuality & Well-being (SWell) Lab under the supervision of Dr. Samantha Dawson. Within the SWell Lab, he is involved in studies focusing on promoting evidence-based sexual education and the sexual and relationship well-being of couples during the transition to parenthood. He hopes to pursue graduate studies in public health. 
how can digital tools and non-digital tools work together to deliver cohesive medical abortion?
Title: myPostCare: expansion of an existing digital tool to include support for medication abortion
Presenter: Hillary Pearson
Co-Authors: Hannah Shin, Nicole Prestley, Brian Fitzsimmons, Genevieve Tam, Roopan Gill

myPostCare is a digital abortion support tool for people experiencing abortion. It was co-designed with users following surgical abortion and is now being adapted for medication abortion. Using survey and in-depth, semi-structured interview methods for people experiencing medication abortion in Canada, we aim to expand the existing tool at myPostCare.ca.
Dr. H. Pearson is a resident physician in obstetrics & gynecology at UBC and the project is supported by Vitala Global, a non-profit founded by Canadian obstetrician gynecologists Dr. R. Gill & Dr. G. Tam.
Title: Dispensing mifepristone for medical abortion in community pharmacies: Experiences of Canadian pharmacists
Presenter: Enav Zusman
Co-Authors: Munro S, Norman WV, Soon JA

Enav Zusman is a PhD student in the Department of Obstetrics and Gynaecology at the University of British Columbia who has been working with the Contraception and Abortion Research Team since 2019. Passionate about women's health, Enav's research interests include pharmacoepidemiology, perinatal epidemiology, reproductive health, and mental health during and after pregnancy. Prior to commencing her PhD studies, Enav obtained a Doctor of Pharmacy (PharmD) and MSc in Experimental Medicine from UBC and a BSc in Medical Sciences from Tel Aviv University (Israel). Enav plans to combine her clinical knowledge and experience with her research work to better support medication safety and effectiveness during pregnancy to improve patient care. Enav's doctoral research is supported by a Vanier Canada Graduate Scholarship and a Killam Doctoral Scholarship.
other relevant studies: covid-19, hiv/aids, and genito-pelvic dyspareunia
Title: Using a Modified e-Delphi Process in the Multi-Stage Development of a Patient-Reported Outcome Measure for Genito-Pelvic Dyspareunia
Presenter: Nisha Marshall
Co-Authors: Samantha Levang, Heather Noga, A. Fuchsia Howard, Lori Brotto, Caroline Pukall, Paul Yong

Nisha completed her Bachelor of Science degree at Queen's University, with a major in Life Sciences and a minor in Psychology. Nisha recently moved to British Columbia to pursue clinical research as a Master's of Science student in the Reproductive and Developmental Sciences program at the University of British Columbia. Her current research interests lie in sexual health and pain research.
Title: The impact of romantic partner cohabitation and COVID-19 related stress on sexual desire, sexual behaviours, and sexual coercion in a Canadian sample
Presenter: Faith Jabs
Co-Authors: Natalie B Brown, Sonia Milani, Bozena Zdaniuk, Lori A. Brotto

Faith Jabs is a PhD student in the clinical psychology program at UBC. She is a member of the UBC Sexual Health Research Laboratory and her work focuses on women's sexual health, sexual motivation, and stress and sexual response.
Title: "It was just something I hid. I hid away. I just…I hid away": Older Women's Experiences of Living with HIV/AIDS in British Columbia
Presenters: Leah Tidey and Peggy Frank
Peggy Frank is a policy analyst, biologist, illustrator, and life coach but more importantly she has been an advocate for equity in care especially in the arena of HIV and AIDS. She has lived and worked in the HIV communities since the 1980s.

Leah Tidey is a post-doctoral fellow in the University of Victoria's School of Public Health and Social Policy as well as the University of British Columbia's Canadian Institute of Inclusion and Citizenship. Her research expertise is in arts-based methodologies, community-based participatory research, and knowledge dissemination. She is also a sexual health educator and utilizes her theatre training to create engaging workshops and online content for people of all ages, including The Love Doctor podcast.