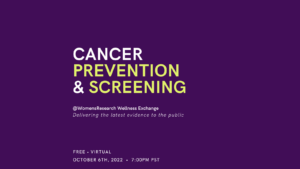 Wellness Exchange: Cancer Prevention and Screening
The WHRI is proud to host bi-annual public events, the @WomensResearch Wellness Exchange. These events directly support our strategic aim to Increase and Promote Research Translation, Implementation, and Communication to ensure that women's health research is informed by women's voices and flows back to women's lives. This aim is guided by our Strategic Frameworks for Knowledge Translation and Patient Engagement. The @WomensResearch Wellness Exchange are FREE events that deliver the latest evidence directly to the public.
Our upcoming event, Cancer Screening and Prevention, on October 6th at 7:00 pm PST will be held virtually via Zoom and streamed live via Facebook.
Moderated by Emcee Shirley Weir, you will hear the latest evidence about breast cancer screening, ovarian cancer prevention, and cervical cancer screening and prevention from Dr. Paula Gordon, Dr. Gillian Hanley, Dr. Anna Gottschlich, and Dr. Lily Proctor.
How can you
get involved?
SPREAD THE WORD
Please download the communications toolkit, which contains captions and graphics for you to spread the work across your networks and social channels.
REGISTER NOW
Register via Eventbrite. Zoom details will be delivered to all registered guests which will enable you to engage directly with members of the research community. The event will also be streamed live via the WHRI Facebook page.
We hope to see you there!
Questions? Contact Nicole.Prestley@cw.bc.ca
Do you have research ready for dissemination to a public audience?