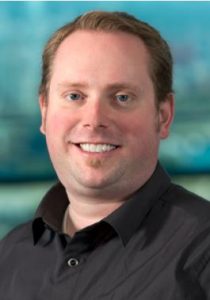 Michael Anglesio
PhD
Faculty of Medicine, Department of Obstetrics & Gynaecology
Biography:
A local of North Vancouver, Dr. Michael Anglesio studied Microbiology and Immunology McGill University and before joining Dr. Poul Sorensen at UBC to complete a PhD with the pediatric cancer research program. He left Vancouver in 2007 for a post-doctoral fellowship at the Peter MacCallum Cancer Center in Melbourne, Australia with Dr. David Bowtell working with the laboratory that defined "molecular subtypes" of high-grade serous ovarian cancer. In 2010 Dr. Anglesio re-joined the group in Vancouver, this time with the OVCARE team at UBC and the BC Cancer Agency. Dr Anglesio has recently been promoted to an Assistant Professor position at UBC and has been supervising graduate and undergraduate students, and mentoring junior researchers and visiting scientists within OVCARE over the past seven years. His work has centered on further defining subtypes of ovarian cancer. With emerging evidence to suggest ovarian cancers are actually a collection of distinct disease. Dr. Anglesio has led several studies that provide evidence of different origins for each different ovarian cancer type. Most recently he has been focused on uncovering the mechanism through which endometriosis may become malignant and progress into either clear cell or endometrioid ovarian cancer.
Select Articles:
Full listing of articles on PubMed: https://www.ncbi.nlm.nih.gov/pubmed/?term=Anglesio+M*[author]
Identical TP53 mutations provide evidence that late recurring tubo-ovarian high grade serous carcinomas do not represent new peritoneal primaries.
Anglesio MS, O'Neill CJ, Senz J, Gilks CB, McCluggage WG.
Histopathology. 2017 Jul 26. doi: 10.1111/his.13327. [Epub ahead of print]
PMID: 28746984
Cancer-Associated Mutations in Endometriosis without Cancer.
Anglesio MS, Papadopoulos N, Ayhan A, Nazeran TM, Noë M, Horlings HM, Lum A, Jones S, Senz J, Seckin T, Ho J, Wu RC, Lac V, Ogawa H, Tessier-Cloutier B, Alhassan R, Wang A, Wang Y, Cohen JD, Wong F, Hasanovic A, Orr N, Zhang M, Popoli M, McMahon W, Wood LD, Mattox A, Allaire C, Segars J, Williams C, Tomasetti C, Boyd N, Kinzler KW, Gilks CB, Diaz L, Wang TL, Vogelstein B, Yong PJ, Huntsman DG, Shih IM.
N Engl J Med. 2017 May 11;376(19):1835-1848. doi: 10.1056/NEJMoa1614814.
PMID: 28489996
Genomic consequences of aberrant DNA repair mechanisms stratify ovarian cancer histotypes.
Wang YK*, Bashashati A*, Anglesio MS, Cochrane DR, Grewal DS, Ha G, McPherson A, Horlings HM, Senz J, Prentice LM, Karnezis AN, Lai D, Aniba MR, Zhang AW, Shumansky K, Siu C, Wan A, McConechy MK, Li-Chang H, Tone A, Provencher D, de Ladurantaye M, Fleury H, Okamoto A, Yanagida S, Yanaihara N, Saito M, Mungall AJ, Moore R, Marra MA, Gilks CB, Mes-Masson AM, McAlpine JN, Aparicio S, Huntsman DG, Shah SP.
Nat Genet. 2017 Jun;49(6):856-865. doi: 10.1038/ng.3849. Epub 2017 Apr 24.
PMID: 28436987
Single-Patient Molecular Testing with NanoString nCounter Data Using a Reference-Based Strategy for Batch Effect Correction.
Talhouk A, Kommoss S, Mackenzie R, Cheung M, Leung S, Chiu DS, Kalloger SE, Huntsman DG, Chen S, Intermaggio M, Gronwald J, Chan FC, Ramus SJ, Steidl C, Scott DW, Anglesio MS.
PLoS One. 2016 Apr 20;11(4):e0153844. doi: 10.1371/journal.pone.0153844. eCollection 2016.
PMID: 27096160
Synchronous Endometrial and Ovarian Carcinomas: Evidence of Clonality.
Anglesio MS, Wang YK, Maassen M, Horlings HM, Bashashati A, Senz J, Mackenzie R, Grewal DS, Li-Chang H, Karnezis AN, Sheffield BS, McConechy MK, Kommoss F, Taran FA, Staebler A, Shah SP, Wallwiener D, Brucker S, Gilks CB, Kommoss S, Huntsman DG.
J Natl Cancer Inst. 2016 Feb 1;108(6):djv428. doi: 10.1093/jnci/djv428. Print 2016 Jun.
PMID: 26832771
Morphologic and Molecular Characteristics of Mixed Epithelial Ovarian Cancers.
Mackenzie R, Talhouk A, Eshragh S, Lau S, Cheung D, Chow C, Le N, Cook LS, Wilkinson N, McDermott J, Singh N, Kommoss F, Pfisterer J, Huntsman DG, Köbel M, Kommoss S, Gilks CB, Anglesio MS.
Am J Surg Pathol. 2015 Nov;39(11):1548-57. doi: 10.1097/PAS.0000000000000476.
PMID: 26099008
Targeted deep sequencing of mucinous ovarian tumors reveals multiple overlapping RAS-pathway activating mutations in borderline and cancerous neoplasms.
Mackenzie R, Kommoss S, Winterhoff BJ, Kipp BR, Garcia JJ, Voss J, Halling K, Karnezis A, Senz J, Yang W, Prigge ES, Reuschenbach M, Doeberitz MV, Gilks BC, Huntsman DG, Bakkum-Gamez J, McAlpine JN, Anglesio MS.
BMC Cancer. 2015 May 19;15:415. doi: 10.1186/s12885-015-1421-8.
PMID: 25986173
Multifocal endometriotic lesions associated with cancer are clonal and carry a high mutation burden.
Anglesio MS, Bashashati A, Wang YK, Senz J, Ha G, Yang W, Aniba MR, Prentice LM, Farahani H, Li Chang H, Karnezis AN, Marra MA, Yong PJ, Hirst M, Gilks B, Shah SP, Huntsman DG.
J Pathol. 2015 Jun;236(2):201-9. doi: 10.1002/path.4516. Epub 2015 Mar 23.
PMID: 25692284
Cancer-associated somatic DICER1 hotspot mutations cause defective miRNA processing and reverse-strand expression bias to predominantly mature 3p strands through loss of 5p strand cleavage.
Anglesio MS, Wang Y, Yang W, Senz J, Wan A, Heravi-Moussavi A, Salamanca C, Maines-Bandiera S, Huntsman DG, Morin GB.
J Pathol. 2013 Feb;229(3):400-9. doi: 10.1002/path.4135.
PMID: 23132766
Recurrent somatic DICER1 mutations in nonepithelial ovarian cancers.
Heravi-Moussavi A*, Anglesio MS*, Cheng SW*, Senz J, Yang W, Prentice L, Fejes AP, Chow C, Tone A, Kalloger SE, Hamel N, Roth A, Ha G, Wan AN, Maines-Bandiera S, Salamanca C, Pasini B, Clarke BA, Lee AF, Lee CH, Zhao C, Young RH, Aparicio SA, Sorensen PH, Woo MM, Boyd N, Jones SJ, Hirst M, Marra MA, Gilks B, Shah SP, Foulkes WD, Morin GB, Huntsman DG.
N Engl J Med. 2012 Jan 19;366(3):234-42. doi: 10.1056/NEJMoa1102903. Epub 2011 Dec 21.
PMID: 22187960
Research areas of interest:
Gynecological Cancer, Endometriosis, Microenvironment, Model systems, Genomic Pathology, Molecular Biology, Cancer Prevention
Research Themes:
Reproductive Infectious Diseases Maternal & Fetal Health Newborn Health
Find another Researcher