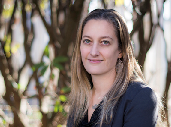 Biography:

Dr. Kate Shannon, PhD, MPH (Global Health) is a Professor and a Canada Research Chair in Gender Equity, Sexual Health & Global at UBC and Executive Director of the Centre for Gender and Sexual Health Equity (www.cgshe.ca). She holds a CIHR Sex and Gender Science Chair in Advancing Gender-Transformative Sexual Health Care in Canada.

Dr. Shannon brings over a decade of experience in community-based research, social epidemiology, population health intervention research, and policy evaluation. She is currently joint PI (with Dr. Charlotte Loppie at UViC) of the CIHR-funded Equitable Youth Sexual Health Project, PI of the Access to Responsive Justice Project, and co-lead of the Trauma-Informed Support Project (with Dr. Jill Chettiar), funded by Federal Ministry of Women and Gender Equality. She is founding PI of the long-standing NIH-funded AESHA project evaluating the impact of structural interventions, laws, and policies on sex workers' safety, health, and human rights. She has worked for over a decade with TASO (The largest East African Indigenous-Led AIDS Support Organization) on Youth Sexual Health Project with conflict-affected migrant and refugee youth and young women in the Gulu District of Northern Uganda; and collaborated with the Physicians for Human Rights on gender inequities, laws, and sexual health in Swaziland and Botswana. 

Dr. Shannon has published more than 200 peer review publications and over 500 media stories. Dr. Shannon has provided expert evidence to Justice, Senate, and House of Commons committees, Missing Women's Commission Inquiry, and Supreme Court of Canada.

She regularly consults on local and international guidelines on sexual health and gender equity including WHO, UNHCR, UNFPA, UNDP, UNAIDS, and Global Commission on HIV and the Law. She has served on the International AIDS Society Advisory Board for Key Affected Populations (2014-2016), the CIHR Institute of Gender and Health Advisory Board (2013-2016), and CIHR HIV/AIDS Research Advisory Committee (2012-2017). 

In 2017, Dr. Shannon was awarded the UBC Faculty of Medicine Distinguished Achievement Award in Applied Research for outstanding contributions to applied research. She was the 2014 recipient of a BC AccolAIDS Award in Community/ Political/ Social Action selected by Positive Living BC for her advocacy work on translation of research to evidence-based policy and human rights frameworks for marginalized communities.
Academic Institution Affiliation: University of British Columbia (UBC)
Academic Institution Position/Title: Associate Professor
Academic Affiliation Faculty: Faculty of Medicine
Hospital/Health Centre Affiliation Position: Director of the Gender & Sexual Health Initiative, BC Centre for Excellence
Degree(s): PhD, MPH
Research areas of interest:
Gender Equity; Sexual Health; Reproductive Justice; Global Health Policy
Research Themes:
Sexual and Reproductive Health
Find another Researcher