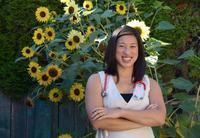 Biography:

Growing up in Nova Scotia, I never heard of midwives except for the stereotypes that you see in movies and TV. It had never crossed my mind as a career choice until I moved to northern BC to pursue a master's degree in Community Health Science. It wasn't until my thesis research working with Aboriginal women, learning about the health disparities of rural and remote communities, that showed me how much work still needs to be done to improve access to quality maternity care for all. A deeper look into the midwifery model of care solidified for me that midwifery was an amazing and integral way of achieving these goals.

I graduated from the midwifery education program at McMaster University in Hamilton, ON, and was so fortunate to be hired on at Pomegranate Community Midwives in 2016. I feel very privileged to be able to serve clients in English, Mandarin, and Vietnamese. My philosophy of midwifery care is rooted in informed choice and feminism, and my goal is that all my clients feel supported and empowered to make the choices that are right for them and their family.

When not midwifing, I can be found exploring this beautiful city, cooking/baking up a storm (my love for butter is a very real thing), hiking the mountains with my dog, and drinking coffee on my patio while observing the plethora of cats sitting on the roofs of East Van.
Academic Institution Affiliation:
Academic Institution Position/Title: Clinical Instructor
Academic Affiliation Faculty: Department of Midwifery
Hospital/Health Centre Affiliation Position: Registered Midwife, Clinical Preceptor
Degree(s): MSc
Research areas of interest:

Research Themes:

Find another Researcher