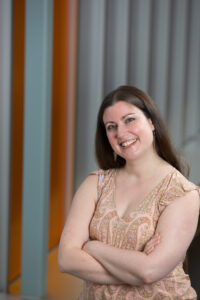 Biography:

Dr. Catriona Hippman is a cross-appointed Postdoctoral Research Fellow with a focus on promoting maternal mental health. She currently holds a BC Children's Hospital Psychiatry Fellowship with the Reproductive and Infant Psychiatry programs and an Eyes High Postdoctoral Fellowship with the University of Calgary Faculty of Nursing. Her vision is for all women to feel empowered to care for their mental health, and her mission is to improve women's reproductive mental health through translational research.
She completed her PhD in 2020 in the UBC Interdisciplinary Studies program, co-supervised by Dr. Jehannine Austin and Dr. Lynda Balneaves, supported by a CIHR Frederick Banting and Charles Best Doctoral Research Award, UBC Killam Doctoral Scholarship, and a UBC Four Year Fellowship. Dr. Hippman's doctoral work focused on how we can better support women who are trying to decide whether to take antidepressants during pregnancy.
Dr. Hippman's fellowship work will investigate models of care for supporting women requiring hospitalization for acute postpartum mental illness.
She also trained clinically as a genetic counsellor, and has been a certified genetic counselor since 2009.
Academic Institution Affiliation: University of British Columbia (UBC)
Academic Institution Position/Title: Post-Doctoral Fellow
Academic Affiliation Faculty: Medicine (Dept Psychiatry)
Hospital/Health Centre Affiliation Position:
Degree(s): PhD, MSc, BA(Hons), BSc
Research areas of interest:
Perinatal mental health, Health service delivery, Patient-oriented research, Feminist, constructivist research, Prenatal genetic screening, Pharmacogenetics, Decision making
Research Themes:
Maternal & Fetal Health
Sexual and Reproductive Health
Genomics and Personalized Health
Find another Researcher