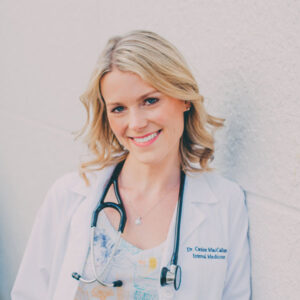 Biography:

Dr. MacCallum graduated from the University of British Columbia Internal Medicine Residency Program in 2013. Upon graduation, Dr. MacCallum, practiced Pain & Addiction Medicine at Vancouver General Hospital and Heartwood Addiction Program at BC Women's Hospital. In addition she also practiced complex pain medicine at the CHANGEpain Clinic and BC Women's Complex Chronic Disease Program.

Currently she is a clinical instructor in the UBC Department of Medicine at where she provides inpatient care on the Internal Medicine Ward at UBC Hospital,  and Bone Marrow Transplant Ward at VGH. She is also guest lecturer and preceptor for UBC Faculty of Pharmaceutical Sciences Program.

Her area of special interest is Medical Cannabis. She is the Medical director at Greenleaf Medical Clinic; a medical cannabis clinic in Langley, British Columbia.  This clinic assesses patients' suitability for therapy with legal, Health Canada approved medical cannabis. The clinic also focuses on the biopsychosocial approach to pain offering a variety of group medical visits including pain sciences, yoga, meditation, sleep, nutrition and cannabis 101. Dr. MacCallum has a passion for cannabis education and cirriculum.  She has done a number of CME presentations and preceptorships for physicians, pharmacists, nurses and other allied health care professionals.
Academic Institution Affiliation: University of British Columbia (UBC)
Academic Institution Position/Title: Clinical Instructor
Academic Affiliation Faculty: Faculty of Medicine
Hospital/Health Centre Affiliation Position: Vancouver General Hospital, UBC
Degree(s): MD, FRCPC (Internal Medicine), B Sc Pharm
Research areas of interest:
cannabis as a multimodal therapeutic for the treatment of concurrent medical conditions and symptom clusters (pain, mood, anxiety, insomnia); safe use of medical cannabis to improved function and quality of life; cannabis to help taper prescription medications (opioids, benzodiazepines etc) to reduce overall polypharmacy burden; cannabis product safety (standardization, testing, and contaminants), cannabis and public health and safety including: cannabis impairment, cannabis use in the workplace; and complex pain
Research Themes:

Find another Researcher