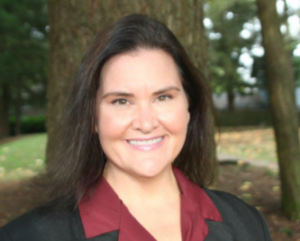 Biography:

Dr. Becky Palmer serves as the Chief Nursing Officer. She was born in Saskatchewan, raised in Alberta and has been living in BC since 1987.

In her role as CNO, Dr. Palmer leads FNHA's Nursing Services and oversees both operations and transformation of nursing programs with an emphasis on quality. Her initial focus is on implementing the findings and recommendations of the FNHA Nursing Services Review.

Dr. Palmer comes to the FNHA from the BC Children's Hospital and BC Women's Hospital and Health Centre. She brings with her 25 years of experience in nursing practice, education and research, as well as 10 years in senior leadership positions. Deeply respected in her field and dynamic in her approach to leadership, she is known for developing and leading innovative health initiatives, creating holistic learning environments, and fostering strong relationships with partner organizations.

Dr. Palmer holds a PhD in Nursing from the University of British Columbia (UBC) and a Master of Nursing. She has Nurse Midwife certification from the University of Alberta and a Bachelor of Science in Nursing from UBC.

Married with three school-aged kids, Dr. Palmer has an active home life. She enjoys spending time with her family and its many pets. She loves to read, enjoys yoga, and likes getting outdoors to kayak, canoe and hike. Dr. Palmer loves adventure and enjoys a good challenge – be it physical, intellectual or spiritual.​
Academic Institution Affiliation:
Academic Institution Position/Title:
Academic Affiliation Faculty:
Hospital/Health Centre Affiliation Position:
Degree(s): PhD, MSN
Research areas of interest:

Research Themes:

Find another Researcher