RAPID: Research Agenda for Perinatal Innovation & Digital health
This project aims to bring together a multi-stakeholder group, composed of patient partners as well as research, government, and health care decision-makers to co-develop a research agenda for digital innovation in perinatal health.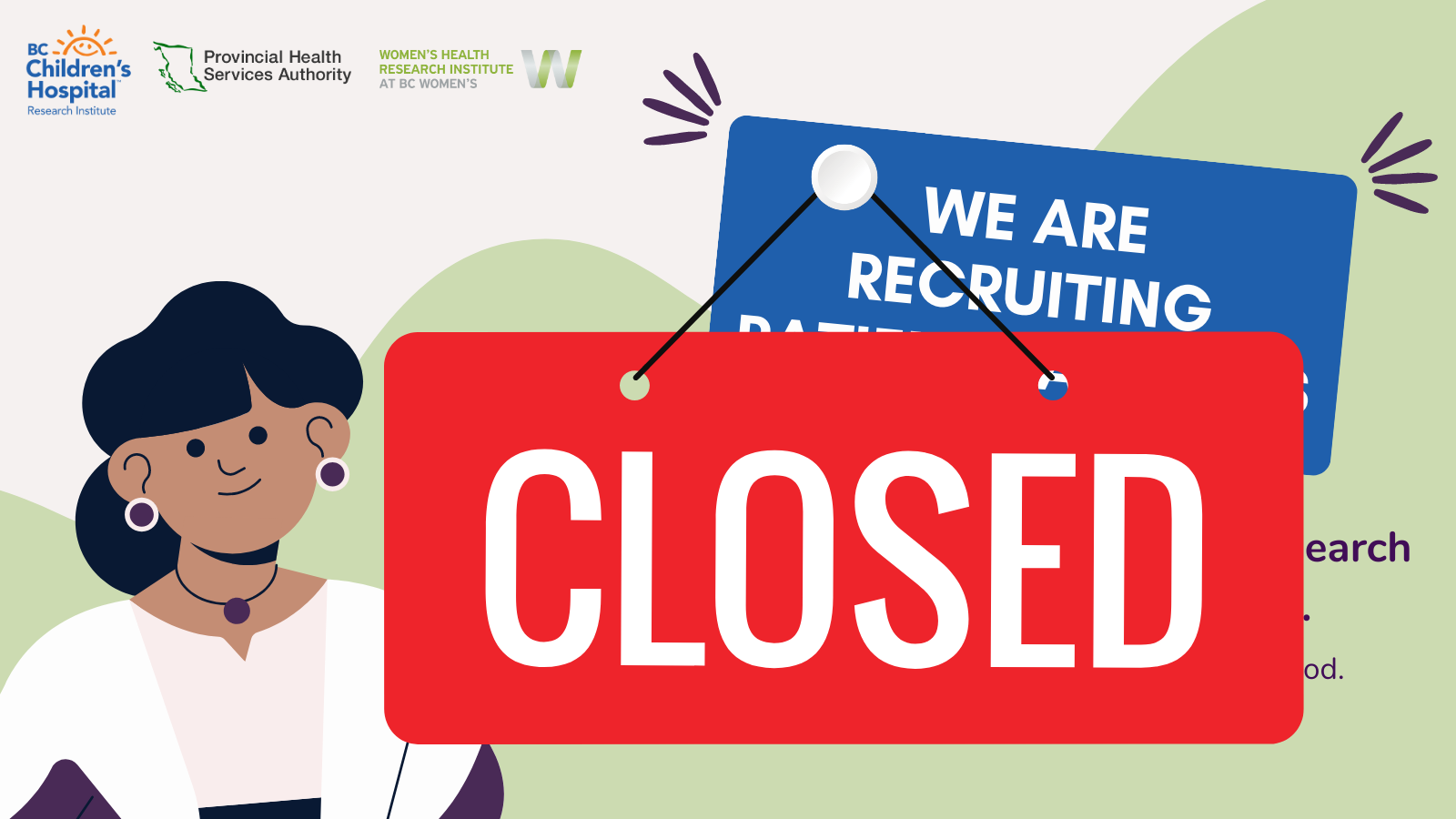 With funding from a Michael Smith Health Research BC convening and collaborating grant, we will:
(1) conduct a review of the literature to identify barriers and facilitators to use of technology in perinatal health care
(2) organize and implement engagement activities with patients, care providers and decision makers in the health care system, to collaborate on research priorities and identify digital health needs related to perinatal care; and
(3) develop a research agenda outlining a summary of activity findings and 3-5 evidence-based priorities, which will be shared with key partners through presentations and social media.
Patient Partner Opportunity
We are looking for 2-3 patient partners who are pregnant or who are a caregiver of a child less than 2 years old to join our RAPID Working Group. The RAPID Working Group will include research team members, Dr. Beth Payne, Dr. Marianne Vidler, Haneen Amhaz and Sally Chen, who will collaborate on project activities such as those listed below and inform the final research agenda. The final activities and level of involvement for the patient partners will be determined in collaboration with the patient partners who join our team.
The RAPID Working Group works in partnership with the RAPID Steering Committee to complete the definition of the research agenda for perinatal digital innovation.
Example Activities: 
 Design workshops to bring together partners and interested parties to identify priorities for digital health research and perinatal innovation. 
Participate in workshops as collaborators and/or discussion facilitators. 
Review and finalize the research agenda report.
Compensation: We are offering patient partners $35/hr for time spent in working group meetings and workshops. The expected commitment is up to 20 hours over the next 10 months.
Eligibility: You must be a multilingual patient/family partner who has had the experience of pregnancy and/or are recent (within 2 years) parents of an infant.
Accessibility: All activities can be done remotely but do require an internet connection and access to a smartphone or computer.
Project goals: We hope to stimulate new partnerships and digital health research to improve the quality of perinatal health care in BC. Quality improvement must include increasing equitable access to care. Ultimately, this project will allow us to build new research teams to address the priority questions identified and seek further research funding.
Contact: Please contact Beth Payne, Manager Digital Health Research, Women's Health Research Institute & BC Children's Hospital Research Institute at bpayne@cw.bc.ca if interested. 
Best, 
The WHRI and BCCHR joint planning committee
What are we hoping to achieve?
Through this work, we hope to set the foundation for future research collaboration and innovation in perinatal care to enhance patient, infant, and family health.e research collaboration and innovation in perinatal care to enhance patient, infant, and family health.
Who is involved in this project?
The project brings together a consortium of partner organizations with leadership from the Women's Health Research Institute and BC Children's Health Research Institute, including Perinatal Services BC, the Office of Virtual Health and Provincial Digital Health and Information Services.

Beth Payne, Chair | Research Project Manager, Digital Health, WHRI/BCCHR 
Gina Ogilvie, Vice-Chair/PI | Senior Advisor, Research, BC Women's /Assistant Director, WHRI
Tibor van Rooij, Member, Co-PI | Director, Research Informatics, BCCHR
Nicole Prestley, Member | Knowledge Translation Lead, WHRI
Quýnh Doan, Member | Interim Senior Executive Director, BCCHR
Marianne Vidler, Member | Assistant Professor, Dept. OB/Gyn
Punit Virk, Member/Trainee| PhD candidate, Faculty of Medicine
May Tuason, Member | Director, Clinical Architecture and Innovation, Provincial Digital Health and Information Services
Kathryn Berry-Einarson, Member | Director, Quality & Research, Perinatal Services BC, PHSA
Dominik Stoll, Member | Senior Leader, Virtual Health, Office of Virtual Health, Provincial Digital Health and Information Services
Are you interested in connecting? Do you have questions?
Email Beth Payne, Digital Health Research Program Manager, WHRI/BCCHR BPayne@cw.bc.ca
Funding awarded > Steering committee convened > Literature review complete > Care provider engagement > Patient engagement > Workshops held > Research strategy developed > Research strategy disseminated
Funding awarded > Steering committee convened > Literature review complete