Academic Institution Affiliation:
Academic Institution Position/Title:
Academic Affiliation Faculty:
Hospital/Health Centre Affiliation Position:
Degree(s):
---
Research areas of interest:

Research Themes:

---
Biography: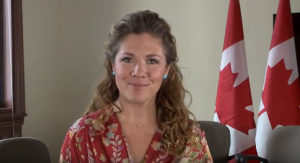 Madame Sophie Trudeau kindly provided the Women's Health Research Symposium with a video message thanking the WHRI for organizing such a successful event. Madame Trudeau discussed the positive impact on women's health the symposium has had, and the importance of discussing intersecting issues such as marginalization and stigma – key topics at this year's symposium. Moreover, Madame Trudeau congratulated Dr. Deborah Money on her receipt of the Career Contribution to Women's Health Research Award for her outstanding research conducted with respect to women's health in the province and globally throughout her academic career.