The Women's Health Research Institute is the research arm of BC Women's Hospital + Health Centre and one of only a few research institutes worldwide to focus exclusively on women's health.

The groundbreaking work being conducted by our researchers will transform our knowledge about women's bodies, and help to make positive changes in health for women and their families.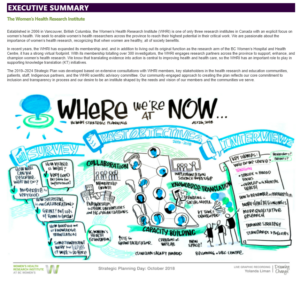 The 2019–2024 Strategic Plan was developed based on extensive consultations with WHRI members, key stakeholders in the health research and education communities, patients, staff, Indigenous partners, and the WHRI scientific advisory committee. Our community‐engaged approach to creating the plan reflects our core commitment to inclusion and transparency in process and our desire to be an institute shaped by the needs and vision of our members and the communities we serve.
BC's Women's Health Research Agenda serves as a guiding document for those engaged in the women's health research enterprise. It is intended to be useful, practical, and applied. This research agenda seeks to guide research and implementation innovations in women's health, and see those innovations translated into health care practice and policy. It is intended to direct our work forward with strength and cohesion, focus and vision, to advance the field of women's health research in British Columbia. The rejuvenated BC Women's Health Strategy intends to engage and align with this agenda by supporting and endorsing provincial stakeholder development, capacity building, and the sharing of best practices to inform overall system enhancements and the provision of services.
Between May 7 to June 22, 2021, the WHRI conducted a digital survey among WHRI members and staff to identify priorities for digital health research programs and activities. 
The Digital Health Report showcases some of the main findings of this survey.
view or download other reports