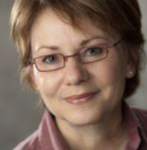 Academic Institution Affiliation: D.Sc, M.Sc, MBA
Academic Institution Position/Title: Associate Professor
Academic Affiliation Faculty: Faculty of Medicine
Hospital/Health Centre Affiliation Position: St. Paul's Hospital/Scientific Director, BC Centre for Improved Cardiovascular Health
Degree(s):
---
Research areas of interest:
Gender and sex differences in the diagnosis, treatment and outcomes of patients with cardiovascular disease
Research Themes:
Chronic Disease
---
Biography:
Dr. Karin Humphries is an Associate Professor in the Faculty of Medicine at the University of British Columbia and holds the UBC-Heart and Stroke Foundation Professorship in Women's Cardiovascular Health. She has a doctoral degree in epidemiology and a background in biochemistry, kinesiology, and experimental pathology. Her primary research focus is on sex and gender differences in the diagnosis, treatment, and outcomes in subjects with coronary artery disease. Dr. Humphries is currently investigating the treatment and outcomes of patients with chest pain, but angiographically normal coronaries.
Dr. Humphries is also the inaugural Scientific Director of the BC Centre for Improved Cardiovascular Health (ICVHealth). In this role, she is committed to improving health outcomes for British Columbians at risk for, or living with, cardiovascular disease by generating and applying new evidence to improve the delivery of cardiovascular care in the province. Together, Dr. Humphries and ICVHealth have undertaken multiple projects that demonstrate potential for broad impact by improving patient outcomes and enhancing resource utilization.