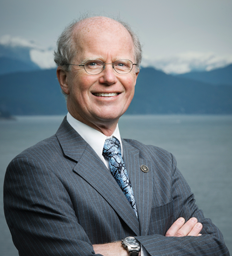 Academic Institution Affiliation: University of British Columbia (UBC)
Academic Institution Position/Title: Professor
Academic Affiliation Faculty: Faculty of Medicine, Department of Obstetrics & Gynaecology
Hospital/Health Centre Affiliation Position:
Degree(s): MD, FRCSC
---
Research areas of interest:
Gynecologic cancer, including population-based screening programs and the conduct of clinical trials as therapeutic interventions in gynecologic cancer
Research Themes:
Reproductive Infectious Diseases
Maternal & Fetal Health
---
Biography:
Dr. Stuart is a Professor in the Department of Ob/Gyn, University of British Columbia. He served as the Dean of the Faculty of Medicine at that institution from September 2003 through to September 2015 and UBC's Vice-Provost Health from 2009 to 2016. Having received his undergraduate and postgraduate medical training at the University of Western Ontario he pursued further training in Gynecologic Oncology at Wayne State University in Detroit, where he stayed on as a faculty member. He became the first Director of Gynecology at the Tom Baker Cancer Centre in 1983. In 1993 he was appointed as Professor and Head, Department of Oncology at the University of Calgary and Director of the Tom Baker Cancer Centre. In 1999, he was appointed as Vice-President of the Alberta Cancer Board. Dr. Stuart presently is an active teacher, clinician and researcher at UBC as a member of the outstanding gynecologic oncology team based at Vancouver General Hospital and the BC Cancer Agency. He has led many large clinical trials. Dr. Stuart has held multiple leadership positions in the field: past Chair of the Gynecologic Cancer Intergroup; Co-Chair of the Gynecology Site Committee of the NCI Canada; and past President of the Society of Gynecologic Oncology of Canada (GOC). In 2009, Dr. Stuart received the Presidential Medal Award from the GOC. He is a fellow of the Canadian Academy of Health Sciences. He has recently working with the BC provincial government on the development of an Academic Health Sciences Network for the Province. His publications have been focused on the methodology of and the conduct of clinical trials within the domain of gynecologic cancer. Dr. Stuart currently is member of the Board of Directors of several public entities including LifeSciences BC, LifeLabs Inc. and Genome BC.