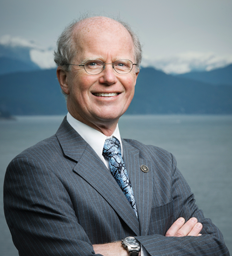 Academic Institution Affiliation: University of British Columbia (UBC)
Academic Institution Position/Title: Professor
Academic Affiliation Faculty: Faculty of Medicine, Department of Obstetrics & Gynaecology, Division of Gynaecologic Oncology
Hospital/Health Centre Affiliation Position: Gynecological Oncologist, Vancouver General Hospital
Degree(s): MD, FRCSC
---
Research areas of interest:
Gynecologic cancer, including population-based screening programs and the conduct of clinical trials as therapeutic interventions in gynecologic cancer
Research Themes:
Reproductive Infectious Diseases
Maternal & Fetal Health
---
Biography:
Dr. Gavin Stuart was the Dean of the Faculty of Medicine, University of British Columbia, from September 2003 until September 2015. During the second term as Dean from September 2009, he was also appointed as Vice Provost Health for the University.
A native of Manitoba, he attended the University of Western Ontario for his undergraduate medical and postgraduate training in obstetrics and gynecology. This was followed by a Fellowship in Gynecological Oncology at Wayne State University in Detroit and a Faculty appointment at that institution.
Dr. Stuart was Director of the Department of Gynecology at the Tom Baker Cancer Centre in Calgary for 10 years. He was appointed as Professor and the inaugural Head of the Department of Oncology at the University of Calgary and Director of the Tom Baker Cancer Centre for 12 years. He was also appointed as Vice-President of the Alberta Cancer Board. He moved to BC in 2003.
His clinical research interests and publications have been in the area of gynecologic cancer, including population-based screening programs and the conduct of clinical trials as therapeutic interventions in gynecologic cancer.
He is past Chair of the Gynecology Site Committee of the National Cancer Institute of Canada (NCIC) Clinical Trials Group. Having been active for many years in the design and implementation of a number of major international intergroup trials in ovarian cancer he was the Chair of the Gynecologic Cancer Intergroup (an international collaboration for clinical trials) and remains as a Director of the Board for that organization. He is a former President of the Society of Gynecologic Oncology of Canada and former Chair of the Board of the Association of Faculties of Medicine of Canada. He is a member of the Canadian Academy of Health Sciences.
Dr. Stuart has been active in leadership roles in many national and US committees on medical education, health human resource planning and evidence-based guideline development. In his current role, he continues to function as an academic Gynecological Oncologist and a member of the team at the Vancouver Hospital and BC Cancer Agency, Vancouver.