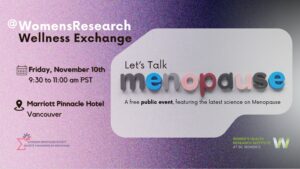 In honour of World Menopause Day, the WHRI is thrilled to announce our next public event, the @WomensResearch Wellness Exchange, "Let's Talk Menopause". This event is a special collaboration with the Canadian Menopause Society as they nest this public event into their Biennial Scientific conference being held in Vancouver. 
This FREE, in-person event will take place on Friday November 10th from 9:30 am to 11:00 am at the Marriott Pinnacle Hotel Vancouver. 
Our Emcee, Shirley Weir of Menopause Chicks will host a lineup of the latest evidence on menopause. Speakers include:
Dr. Michelle Jacobson, who will give a "Menopause 101" that includes tackling questions like "why menopause matters", and "are hormones safe"?
Dr. Melanie Altas, who will talk about "Owning Your Sexual Health in Menopause" including the impact on vulvar and vagina health, sexual pain, and how to find pleasure again in sexual intimacy.
Janet Ko, President and Founder of the Menopause Foundation of Canada will speak to their recently released report on "The Economic Impacts of Menopause"
The WHRI is proud to host bi-annual public events, the @WomensResearch Wellness Exchange. These events directly support our strategic aim to Increase and Promote Research Translation, Implementation, and Communication to ensure that women's health research is informed by women's voices and flows back to women's lives. This aim is guided by our Strategic Frameworks for Knowledge Translation and Patient Engagement. 
The @WomensResearch Wellness Exchange are FREE events that deliver the latest evidence directly to the public.