2018 Women's Health Research Institute Catalyst Grant Recipients
The Women's Health Research Institute (WHRI) is very pleased to congratulate the recipients of the 2018 Women's Health Research Institute Catalyst Grants. This competition was funded thanks to the dedicated support of the BC Women's Hospital + Health Centre Foundation.
This grant competition provides support for pilot studies in women's and newborn's health, which aim to generate preliminary data; test new approaches, methodologies or tools; bring new teams together; and/or support new research in women's and newborn's health from established researchers.

Recipient of the Auxiliary to BC Women's Catalyst Grant
Dr. Pascal Lavoie, Division of Neonatology, Department of Pediatrics, University of British Columbia
Recipient of a 2018 WHRI Catalyst Grant
Dr. Cindy K. Barha, Postdoctoral Fellow, Department of Physical Therapy, University of British Columbia

Dr. Laura Schummers, Postdoctoral Fellow, Department of Family Practice, University of British Columbia

Click here for the full announcement and details of the recipients projects.
Member Spotlight: Dr. Laura Schummers
This month our spotlight is on Dr. Laura Schummers, a Postdoctoral Fellow working with the Contraception and Abortion Research Team (CART-GRAC)! Laura was recently awarded a Michael Smith Foundation for Health Research (MSFHR) Research Trainee Fellowship for her project "Mifepristone outcomes study: Examining abortion access, outcomes, and costs following the introduction of mifepristone", as well as a Health Systems Impact Fellowship co-funded by CIHR and the BC Ministry of Health for her work "Population-based epidemiological analysis to evaluate and inform reproductive health policies in British Columbia."

Read more about Laura here.
Hire a UBC Science Co-op student!
UBC Science Co-op is now accepting job postings for the summer 2019 Term! We have an excellent group of 3rd and 4th year students in various disciplines available for 4, 8, and 12 month work terms, starting May 2019.
UBC Science Co-op provides Canadian and international employers with access to qualified and motivated UBC Science students within the Faculty of Science and available in over 20+ disciplines. Students may be pursuing their degrees in Biology, Microbiology & Immunology, Biochemistry and Molecular Biology, Chemistry, Engineering Physics, Cellular, Anatomical and Physiological Sciences, Integrated Sciences, Physics, Land and Food Science, Computer Sciences, Statistics and Mathematics.
If you have any questions, please do not hesitate contact Ana Furtado at 604-827-1364 or info@sciencecoop.ubc.ca.
2019-2020 Global Health Trainee Grant
The Centre for International Child Health and the Medical Staff Association of BC Children's and Women's Hospital are working together to support trainees in health professions who are engaged in global health with clinical activities related to the health care of neonates, children, adolescents, or women. Funding is available in the amount of $1000 for trainees who elect to go on global health electives between February of 2019 and 2020 as part of their academic training. Candidates must be registered in a postgraduate medical training program, or be enrolled in a professional training program in British Columbia, which includes any health care discipline that leads to a professional designation.
Please visit the 2019-2020 Global Health Trainee Grant Application webpage for more information and to begin your application today!

Congratulations to two WHRI-associated teams on receiving UBC grants to catalyze research clusters!

Women's Health Research Cluster
Goal of the Cluster: To form a multidisciplinary collaborative national network of researchers and stakeholders to promote, expand, and catalyze impactful women's health research.
PI: Liisa Galea, PhD
Gynecologic Cancer Initiative
Goal:The BC Gynecologic Cancer Initiative (GCI) aims to accelerate transformative research to reduce death and suffering from gynecologic cancers in Canada by 50% by 2034.
PI: Gavin Stuart, MD
For more information about other successful Grants for Catalyzing Research Cluster recipients, see https://research.ubc.ca/2018-grants-catalyzing-research-clusters-competition-results
WHRI Secret Santa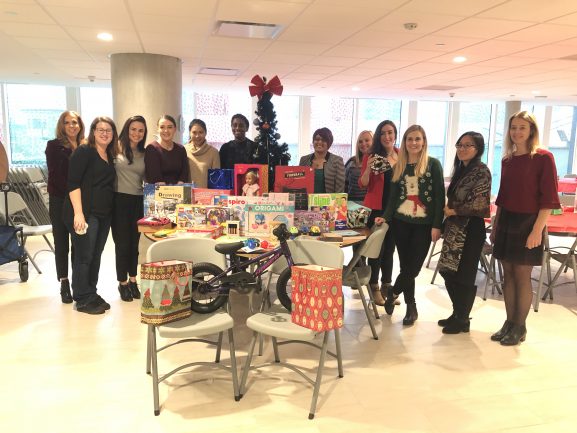 WHRI holiday tradition includes collection of donations for Crabtree Corner, a Downtown Eastside organization serving marginalized women and their families.  As part of this initiative, WHRI staff hold a gift exchange in which participants anonymously purchase gifts for one another's "inner child".  This is an enjoyable opportunity to reflect more deeply on the unique interests of our colleagues and, thereafter, to donate the gifts to Crabtree Corner.  
This year's collection efforts were tremendously successful.  Donations were well-thought out ranging from art supplies, to creation labs, clothes, books, a bicycle and beyond!  Each year, we endeavour to select gifts mindfully and ensure we include gifts for older children and teenagers, for whom donations are often limited.
The gifts were received with great pleasure and appreciation by the staff at Crabtree.  In passing on the gifts, we emphasize our appreciation for the families served, as well as the staff at Crabtree, who go above and beyond, doing amazing work in support of women and families in the Downtown Eastside.  When the toys were dropped off, we had the pleasure of seeing children jumping for joy at Crabtree, and the coming of going of families.  The donations will be purposefully matched with families and shared later this holiday season.
We extend our sincere thanks to everyone who supported this effort, participated or shared in the excitement of the exchange.  Wishing you all a wonderful, rejuvenating holiday season full of good cheer!
Global Women's Health & Human Rights (Sessional Lecturer)
The Faculty of Arts in collaboration with the Office of Regional and International Community Engagement (ORICE) is inviting applications for a qualified individual to teach the following 3-credit course during the 2019 Spring Session, Term 1 (May-June 2019):
ASTU (4XX TBD) – Global Women's Health & Human Rights
This course, Global Women's Health and Human Rights, will focus on critical issues related to global women's health and her/their ability to exercise human rights. Using an intersectional approach, this course will examine a number of factors that women face in their pursuit of achieving and maintaining health, including, but not limited to economic, social and political factors. Students will be introduced to frameworks and theories through which to understand the women's health and rights. Incorporating lectures, guest speakers, readings, classroom discussion and experiential learning, this course will explore the conference theme of Power: Individual, Structural and Movements. The instructor is encouraged to integrate their related and relevant scholarly expertise into the course curriculum.
This course will have a direct intersection with the Women Deliver 2019 conference being hosted in June 2019 in Vancouver, BC. Students will apply to this course and will receive a full conference admission. As such, interested instructors will be asked to collaborate on course design with ORICE to incorporate experiential learning into the research projects associated with the course assignments. Resources on research related to health policy will be available from Women Deliver in advance of course delivery, if interested.
With Women Deliver 2019 being integrated as an experiential learning component of this course, students should be encouraged to apply their classroom-based learning to participation in the conference sessions and dialogue with organizations and individuals from diverse settings to inform their academic activities and understanding broadly. Students are encouraged to deepen and challenge theoretical models, and knowledge acquired through literature through dialogue and participation in the conference.
For further information about Women Deliver 2019 visit https://wd2019.org/, and for information about Office of Regional and International Community Engagement (ORICE) in the Faculty of Arts visit: www.orice.ubc.ca
Public Event
This year WHRI held a series of public forums to help share relevant and accurate health information to empower women to advocate for their own health. The events covered a variety of topics, including mental health in adolescent girls, perinatal depression, mindfulness, managing stress, and diet.
On December 10th WHRI held its final public forum of 2018 at the BC Children's Hospital Research Institute Chan Centre Auditorium. The event, "Tis the season to manage stress for a healthy new year!", was emceed by Shirley Weir, founder of MenopauseChicks, and featured Dr. Joelle LeMoult speaking about psychological strategies for managing stress; Dr. Kristen Campbell sharing evidence on the benefits of exercise for managing stress; and Jennifer Howker, RD who discussed the importance of eating well and allowing your body to reach a "rest and digest" state.
If you couldn't attend the event check out our Twitter Moment, and follow @womensresearch on Twitter and Instagram to learn about our future public forums.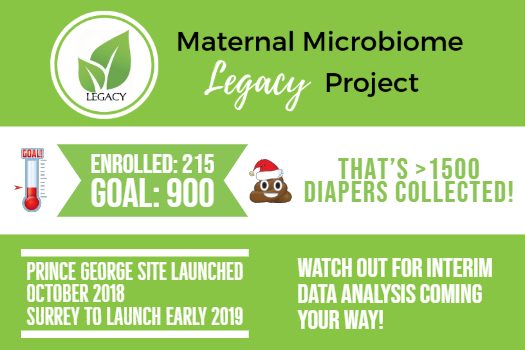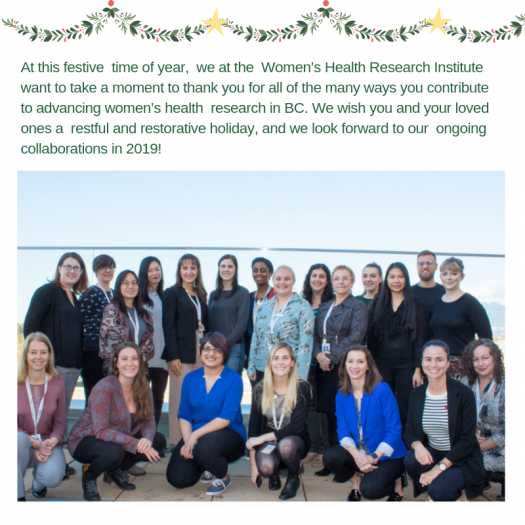 The School of Population and Public Health, UBC and the Centre for International Child Health (CICH) at BC Children's Hospital are co-hosting an inaugural global health conference on January 24th, 2019. 

For more information and to buy your ticket, click here.

Students are encouraged to submit their poster abstracts by January 1st, 2019. Find more information and submit your abstract here.
Are you starting to plan Knowledge Translation or Implementation activities for your next Grant Application?

If so, the WHRI is pleased to announce that we are co-hosting "A Complete Guide to Writing Knowledge Translation into your Grant", a FREE workshop with the Michael Smith Foundation for Health Research taking place over two half days January 17, and 18 2019.

Please register as soon as possible as spaces will fill by emailing ciana.maher@cw.bc.ca

Save the date!

Mark your calendars for the Interior Health / UBC-O Symposium which will be held February 27th at the Kelowna Yacht Club.

The event will feature local researchers and their work. Stay tuned for more details!
WomenDeliver2019@UBC Grants award up to $500 for projects that support advocacy for gender equality and the health, rights and well-being of women and girls.     
The next funding deadline is February 8th, 2019.

Click here for more information.
Tickets are selling quickly for BC Women's Hospital + Health Centre Foundation Illuminations Luncheon, which will be taking place January 24th, 2019. 

The event will feature documentary filmmaker and activist, Jennifer Brea, whose debut feature, Unrest, tells of her vulnerable personal journey with myalgic encephalomyelitis, commonly known as chronic fatigue syndrome.

Learn more and purchase your ticket today.
Save the date!

As part of Endometriosis Awareness Month, BC Women's Centre for Pelvic Pain and Endometriosis will be hosting the 2019 Celebration of Hope. 

The event will feature presentations on the latest endometriosis research, with keynote speaker Dr. Christian Becker.

This is a free public event with limited seating, so RSVP today!

More information.
Do you have research to share with the world? We are looking for research teams who would like to use our platform to showcase their work!

For more information email Melissa.
The Women's Health Research Institute (WHRI) is pleased to announce the launch of a pilot project in partnership with Perinatal Services BC that will provide streamlined and efficient access to data within the BC Perinatal Data Registry (BCPDR).

Read more.