‌

The 7th Annual Women's Health Research Symposium is just around the corner, and we cannot wait to come together once again (virtually or in-person) for an energizing day centred on women's health research in BC and beyond. If you not yet already done so, please register so that you can take part in this exciting event.

I'd also like to encourage you to share the details of Hopes, Dreams, and Nightmares: A mentorship and networking event for trainees engaged in health research​ with students and trainees in your networks. Building off the success of last year's inaugural event, this session will offer the opportunity to meet with mentors to discuss a diverse range of topics, from research pathways for clinician-scientists to how to transition from a PhD to public service.

Kathryn Dewar, PhD

Senior Research Manager | Women's Health Research Institute


‌
‌

Join us next Wednesday, March 9th for the 7th Annual Women's Health Research Symposium!

We have an incredible line-up of speakers this year, including our keynote, Dr. Steven J. Hoffman (Director, Global Strategy Lab; Scientific Director, CIHR's Institute of Population and Public Health) and Dr. Jennifer Gardy (Deputy Director, Surveillance, Data, and Epidemiology, Bill & Melinda Gates Foundation Malaria Team), and several members of our provincial women's health research community.

Whether you're joining us in-person at the Robert H. Lee Alumni Centre or tuning in online, don't forget to secure your spot. And, if you're a trainee, make sure you sign up for our trainee breakfast and networking + mentorship event!

PS - we've extended our call for poster submissions until Monday, March 7th!

‌
‌

COVID-19 Patient Database for Research

The BC CDC has established the COVID-19 Consent to Contact Registry Database, which now contains approximately 59,000 participants.

Access to the database is free, fast, and because participants have already expressed interest in research the recruitment process goes quickly. The whole initiative is also REB and OIPC approved.

Access to the registry is organized by the COVID-19 Clinical Research Coordination Initiative (CRCI).

‌
‌

WHRI/BCCHR Digital Health Research Series

Learn about practical approaches, methods, and processes of conducting digital health research for better patient and family health!

The WHRI and BC Children's Hospital Research Institute (BCCHR) are collaborating on a virtual series to improve capacity for investigators, care-providers, and health system implementers to test and research digital health technologies and interventions. Follow us on Eventbrite and never miss an event!

February 3 Session Recap: Applying Human Centred Design for Better Digital Health Interventions

Last month, we hosted a session on human centred design (HCD) co-led by Lee Payne (Google), Dr. Helen Monkman (HIS, UVic), and a trainee case study from Misha Hasan (Digital Labs).

Here's what we learned:

HCD starts with seeking to understand the needs of your users and is the place where feasibility, desirability, and viability meet.
HCD starts with empathy for your users! Product teams typically cycle through phases of inspiration, ideation, and implementation and use specific methods to understand user problems and quickly prototype, test, and iterate digital products.
In creating digital health interventions, it is important to –with humility- understand and develop for the specific health and socioeconomic barriers faced by "health consumers", especially groups who may be impacted by the digital divide.

Check out a full summary of last month's session and previous workshops on the WHRI digital health webpage.

‌
‌

Podcast

| | |
| --- | --- |
| | ‌ |

If you've ever thought about #SciComm, this month's episode of @WomensResearch is for you.

Dr. Angela Kaida sits down with Dr. Jennifer Gardy to discuss her journey, from research with the BC CDC, to her path to television, to her current position with the Bill & Melinda Gates Foundation and what it means to think about local research in a global context.

‌
Beyond the Stories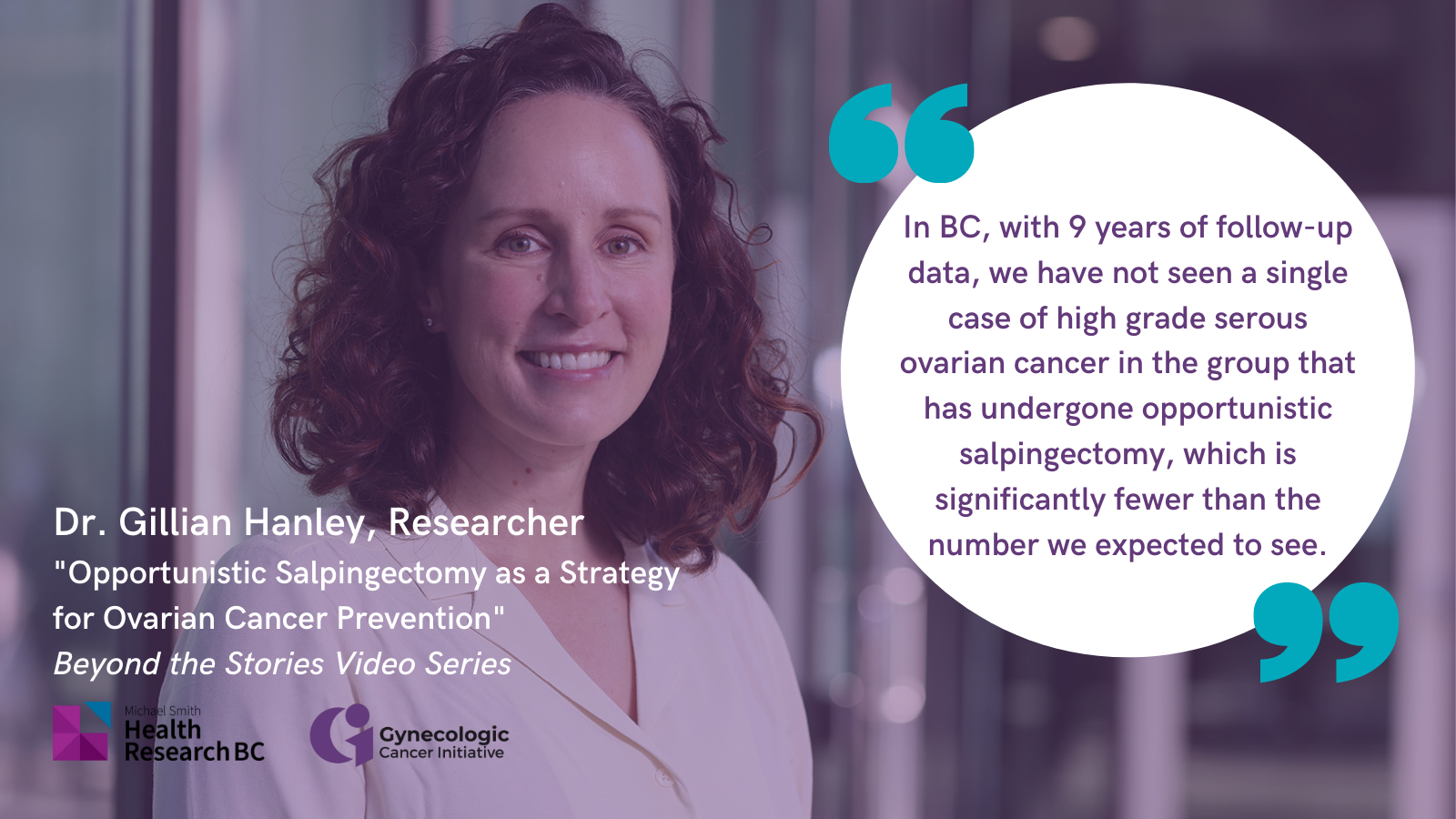 ‌

The Gynecologic Cancer Initiative (GCI) is launching the second video of their Beyond the Stories series, funded by Michael Smith Health Research BC: "Opportunistic Salpingectomy as a Strategy for Ovarian Cancer Prevention".

Research over the past few decades has indicated that most high grade serous ovarian cancers (the most common and lethal form of ovarian cancer) originate in the fallopian tubes rather than in the ovaries. Therefore, opportunistic salpingectomy (OS) is a recommended practice of removing the fallopian tubes while leaving ovaries intact for patients undergoing a hysterectomy or tubal ligation in the effort to prevent ovarian cancer. In this video, Dr. Gillian Hanley discusses what we know about the safety and effectiveness of OS for ovarian cancer prevention. In addition, patients Justine Greene and Dr. Janice Kwon speak to their reasons of undergoing an OS. You can watch the video here.

Dr. Hanley and her team have just published their study with early effectiveness data showing that opportunistic salpingectomy does appear to be preventing ovarian cancers. This publication is available in the the Journal of the American Medical Association Network Open! You can read more about the publication on the GCI website.

‌
‌

We're hiring!

We are recruiting for a Clinical Research Coordinator.

The Study: A Double Blind Randomized Trial of Low-Dose Naltrexone for Post-COVID Fatigue Syndrome aims to determine whether low-dose naltrexone improves energy, reduces fatigue and pain in people who have Post-COVID Fatigue Syndrome.

Apply here: Clinical Research Coordinator - BC Children's Hospital at PHSA

‌
‌

Are you interested in science communication as a career but aren't sure how to make it happen? Join the Djavad Mowafaghian Centre for Brain Health and the Women's Health Research Cluster on March 18th, from 12-1pm to learn more! This event will feature a panel of three science communicators, all with diverse backgrounds, who will be sharing their insights and experience in their scicomm journey.

Register here! https://bit.ly/33OGZvx

‌
‌

Join WHRI member, Marianne Vidler and team, for an interactive workshop on how to improve diversity in perinatal participants in research. Share your experience and insight on strategies and considerations in achieving more inclusive and equitable research.

Join the dialogue on March 11 10:05-10:55am PDT at the Putting Patients First Conference 2022, registration is free - https://redcap.bcahsn.ca/surveys/?s=4A9CM4TT7E

‌
‌

On behalf of the Centre for International and Child Health (CICH) at BC Children's and Women's Hospital and the School of Population and Public Health at the University of British Columbia, we present to you the 4th Annual Global Health Conference.

The 2022 Global Health Conference is an event for global health researchers, students, and organizations to come together and explore the reimagining the postpartum and postnatal period.

Please note that this is a hybrid conference. Based on provincial health restrictions in British Columbia, they will offer in-person attendance at the Chan Centre for Family Health Education at BC Children's Hospital.

Zoom details will be sent out closer to the date via email along with the confirmed schedule.

Attendance for this conference is FREE and open to everyone. Attendees must register via Eventbrite.

Registration is now open: https://www.eventbrite.com/e/246737086267

‌