Exciting news!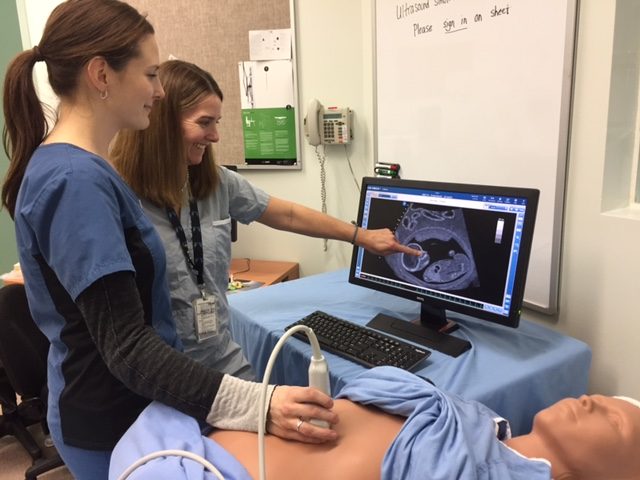 BC Women's Hospital Sonographer, Amanda Easton, orients Jenalee Jarvis, BCIT Diagnostic Medical Sonography program student, on the PRIME Centre's Ultrasound simulator "Catherine."
The Women's Health Research Institute (WHRI) is pleased to announce that BC Women's Hospital + Health Centre Foundation has received a donation of $2.5M to be used for the creation of a new BC Women's Hospital + Health Centre Research "Wet Lab" and for an expansion of the existing Perinatal Research IMaging Evaluation (PRIME) Centre.
Under the governance of the WHRI, the BC Women's Hospital Research Wet Lab will provide dedicated space and equipment for WHRI members who are BC Women's Hospital-based researchers to conduct laboratory studies. The Wet Lab will enable researchers to carry out bench science research, and will include trained laboratory support staff, specialized equipment (i.e., for tissue culture and analysis) and additional capacity for sample storage. The Wet Lab builds on our vision for research at BC Women's Hospital, which is to provide national and international leadership in women's and newborn's health to foster new research opportunities, cutting-edge innovations, and expanded partnerships.
The PRIME Centre is a new ultrasound research facility that was funded by a Canada Foundation for Innovation Grant, awarded to WHRI member Dr. Denise Pugash. The PRIME Centre is a hub for researchers to create substantial advances in health care through the use of cutting edge technology. PRIME provides the infrastructure and enables opportunities for researchers, educators, and clinicians to improve the health of mothers and babies in a collaborative environment, progressing from simply describing pregnancy and birth conditions to understanding their conditions. With funding provided by this generous donation, the PRIME Centre, will now have a permanent and expanded home within BC Women's Hospital + Health Centre. The additional infrastructure allocated to the PRIME Centre will enhance the facility's ability to give researchers a single place to share state of the art equipment, develop new technologies and share common interests and goals, which will allow greater opportunities for collaboration that will improve maternal, fetal and newborn health.
To learn more about the current PRIME facility, equipment and opportunities for research, click here.
SAVE THE DATE: Free KT Workshop
Are you starting to plan Knowledge Translation or Implementation activities for your next Grant Application?

If so, the WHRI is pleased to announce that on we are co-hosting "A Complete Guide to Writing Knowledge Translation into your Grant", a FREE workshop with the Michael Smith Foundation for Health Research taking place over two half days January 17, and 18 2019.

What is this about? This workshop will focus on the fundamentals of KT and the implementation of evidence- why you should do it, and how to plan and conduct it successfully.

Who should participate? The workshop is designed for anyone who is planning end of grant KT or integrated KT activities for their project teams, or wants to gain a better understanding of KT.

Workshop overview: The workshop includes lecture, practical application activities and group discussion. At the end of the workshop, participants will be able to do the following:

Prioritize knowledge translation and implementation goals.
Develop a Knowledge Translation plan for their projects.

Become competent in KT language and how to use it correctly in your grant application

The workshop will be led by Knowledge Translation specialists Gen Creighton, Michael Smith Foundation and Ciana Maher, WHRI along with guest speakers.


Please register your interest as soon as possible as spaces will fill quickly.

To register please email ciana.maher@cw.bc.ca.
Osteoporosis Awareness Month
Osteoporosis, a disease which deteriorates bone tissue and increases the risk for fractures, affects approximately 2 million Canadians. November is Osteoporosis Awareness month, a time to raise awareness and discuss prevention - but often popular conversation doesn't include young women and the steps they can take to decrease their risk.
Dr. Jerilynn C Prior is an endocrinologist who authored the ABCs of Osteoporosis Prevention for Teenaged Women to help bridge this gap and raise awareness among healthcare providers, young women, and their caregivers about the unique steps they can take for better life-long bone health.

Read our feature with Dr. Prior to learn more about the ABCs of Osteoporosis Prevention for Teenaged Women!
CFI Call for Proposals
It is anticipated that the Canada Foundation for Innovation (CFI) will launch a Call for Proposals for the Innovation Fund (IF) in early 2019.


In preparation for this call, UBC faculty are invited to submit a UBC internal Expression of Interest (EOI) utilizing their short online form. EOIs are due January 11 2019.

The internal EOI is mandatory for all projects that UBC is to be the lead or a partner on, but will not be used to select or deny submissions.


The mandatory internal EOI is submitted online here.

Please direct any questions or concerns about the Innovation Fund competition to the UBC Institutional Programs Office.
Digital Health Week
This Digital Health Week we put the spotlight on CervixCheck - a website developed by the BC Centre for Disease Control (BCCDC) and the BC Cancer Cervix Screening Program.

Using CervixCheck, women who are overdue for cervical cancer screening can order a kit to perform cervical cancer screening at home. This is a pilot research project where women will be recruited from collaborating family medical clinics in Surrey, an urban centre with some of the lowest regional screening rates in the province and large South Asian population.

Read more about the project here.

The BCCHR Biobank has samples available!

The BC Children's Hospital BioBank has maternal and infant samples with annotated clinical data available for research purposes. The samples are from both healthy and pathological pregnancies and they include the following types of samples: prenatal serum, maternal blood, placenta, full-term & pre-term cord blood.
Researchers who would like to apply to use these samples can go to www.bcchr.ca/biobank and click on "Research". These samples are open to all researchers, not just those affiliated with UBC or C&W.
Pain Week
This month, in honour of pain week, the #ItsNotInYourHead campaign released a series of videos about provoked vestibulodynia, mindfulness, self-care, and more!

Check out the videos here and help us continue spreading the word by sharing them on your social media!
Holiday Gifts that Give Back to BC Women's

The BC Women's Hospital Foundation is partnering with ten local businesses who are generously donating a portion of proceeds to BC Women's – ensuring that women and newborns have access to the highest quality healthcare when, where, and how they need it.

Click here for more information and to see the full list of businesses.
Join us December 12th at noon to hear from Dr. Michael Klein, author of the newly published book Dissident Doctor: Catching Babies and Challenging the Medical Status Quo

Where: SHY Bldg, D308

Copies will be available for purchase (cash only).

More info.
Tis the season to manage stress for a healthy new year!

Join us for a free public event December 10th to learn some tips for managing seasonal stress!

Full details and registration.
The School of Population and Public Health, UBC and the Centre for International Child Health (CICH) at BC Children's Hospital are co-hosting an inaugural global health conference on January 24th, 2019.

For more information and to buy your ticket, click here.

Students are encouraged to submit their poster abstracts by January 1st, 2019. Find more information and submit your abstract here.
WorkSafeBC has issued a Request for Proposals for research into psychological injuries in the workplace.

More information here.

Deadline: December 7th
Do you have an idea that could help improve workplace health and safety?

WorkSafeBC recently launched the 2019 Innovation at Work grant competition!

More information available here.


Letter of intent (optional): December 21, 2018, at 4 p.m.

Application form (required): February 15, 2019, at 4 p.m.

The BC Support Unit is offering a free workshop titled "T4P: Tools for Patient-Oriented Research"!

When: December 10
Where: Pinnacle Hotel

More information and registration here.
Save the date!

Mark your calendars for the Interior Health / UBC-O Symposium which will be held February 27th at the Kelowna Yacht Club.

The event will feature local researchers and their work. Stay tuned for more details!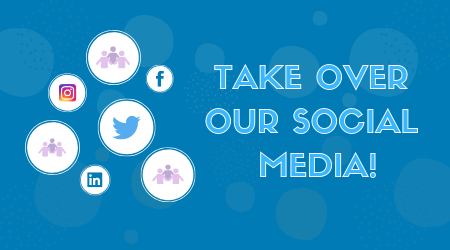 Do you have research to share with the world? We are looking for research teams who would like to use our platform to showcase their work!

For more information email Melissa.
Perinatal Data Registry

The Women's Health Research Institute (WHRI) is pleased to announce the launch of a pilot project in partnership with Perinatal Services BC that will provide streamlined and efficient access to data within the BC Perinatal Data Registry (BCPDR).

Read more.