‌

Digital Health Education Series

Are you interested in designing and implementing digital health tools and interventions that are accessible?

Join WHRI and BCCHR for a live discussion on June 8 @ 12:00-1:00pm with research teams innovating for underserved populations. Presenters will be sharing about practical methods and approaches to promote digital health equity.

Register now!

Check out previous sessions in our Digital Health Innovation Learning series in our repository.

‌
‌

Advancing the Science of Physiologic Birth

Between contraception and pregnancy – shaping the health of future populations through preconception health.

Webinar: June 6 at 1:00 pm PST

The UBC Cluster of Research Excellence, entitled Advancing the Science of Physiologic Birth is hosting an international webinar to explore promoting the health of women and children through improving preconception health.

Dr. Kirsten Black, an academic clinician at the University of Sydney, leads the Preconception Stream for a National Centre of Research Excellence in Australia. Her talk will be entitled Summarizing the evidence for intervention in the preconception period to improve maternal and child health outcomes.

Dr Danielle Schoenaker is an epidemiologist in the School of Primary Care, Population Sciences and Medical Education at the University of Southampton, UK. She will be speaking about Creating a national picture of preconception health to inform priorities and monitor impact of interventions and policies.

Preconceptual health is an emerging are of focus in Women's and Maternal-child health. Our webinar precedes the 5th European Conference on Preconception Health and Care, September 22nd-23rd, which is accessible in a virtual format. Our Cluster will work closely with the UK Preconception Partnership as we explore linkages for our UBC network.

The Cluster for Advancing the Science of Physiologic Birth is led by Dr. Patricia Janssen, School of Population and Public Health, Dr. Wendy Norman, Department of Family Practice, and Dr. Saras Vedam, Midwifery Program, Department of Family Practice.

‌
International Normal Labour and Birth Conference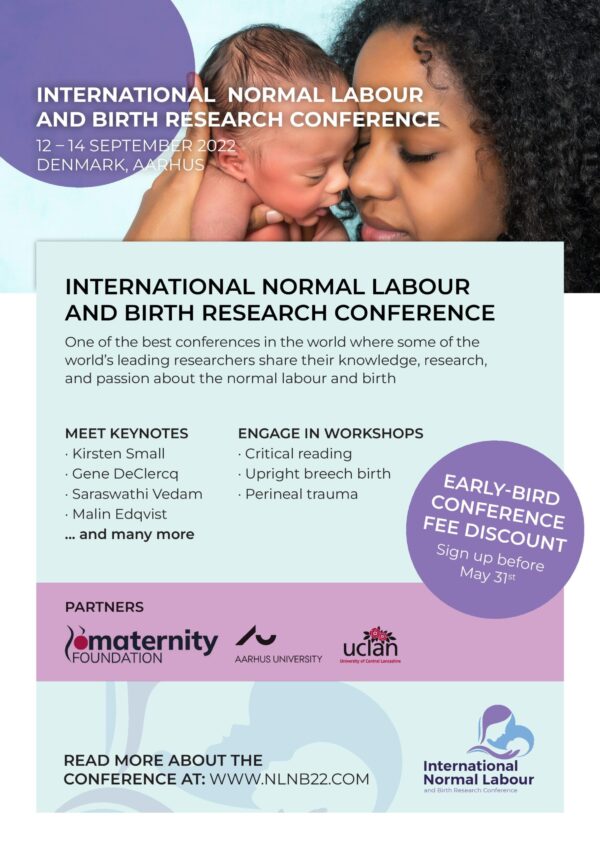 ‌

Registration and abstract submissions are OPEN for the 21st International Normal Labour and Birth Conference!

This year's conference theme is challenging discussions in normal labour and birth, and will be held in Aarhus, Denmark in September 2022.

Details, registration, and submissions: https://nlnb22.com/

‌
‌

Webinar: Exclusive Breastfeeding Promotion in Nigeria

Join Maternal and Infant Health Canada with Dr Obinna Ekwunife and Izuchukwu Loveth Ejie as they speak on the topic: Exclusive Breastfeeding Promotion in Southeastern Nigeria. The Event will be at 8:00 AM PDT on Tuesday, May 24th. Register here!

With this webinar, you will be able to engage with the following learning objectives:

1. Understand the factors and barriers to exclusive breastfeeding in southeast Nigeria
2. Learn the development of an educational intervention to address the low practice of exclusive breastfeeding in southeast Nigeria

Presenter Bios:

Dr Obinna Ekwunife is a Takemi Fellow in International Health at Harvard School of Public Health and an Associate Professor in the Department of Clinical Pharmacy and Pharmacy Management at Nnamdi Azikiwe University Awka, Nigeria. His areas of specialization are health economic evaluation, evidence-based public health, and health service research. His research focuses mainly on neglected tropical diseases, HIV and malaria. Obinna is a fellow of the Nigerian Young Academy (NYA), and the Alexander von Humboldt Foundation (AVH). He is the program manager of Social Innovation in Health Initiative (SIHI) Nigeria Hub, a World Health Organization/TDR sponsored project that aims to identify and promote social innovations in health in Nigeria.

Izuchukwu Loveth Ejie is a lecturer in the Department of Clinical Pharmacy and Pharmacy Management at Nnamdi Azikiwe University Awka and PhD student in the same University. She is a Fellow of the West African Postgraduate College of Pharmacy and a recipient of Nduaka Education Fund.

We can't wait to see you there!

‌
‌

Great Minds:
Building A Community of Perinatal Mental Health Researchers in Canada


Are you interested in networking with other perinatal mental health researchers?

Join the Canadian Perinatal Mental Health Collaborative on June 2nd from 3-5pm PST to meet and build relationships with perinatal mental health researchers across Canada! This event will feature themed break-out rooms on: Perinatal Anxiety, Perinatal Mental Health Advocacy, Child Development and Family Planning, Sleep and Biological Rhythms, and Perinatal Sexual Health.

Register for free through the event page or sign up for the CNPRM conference.

‌
‌

Are you a trainee in the Faculty of Medicine?

Research graduate students and postdoctoral fellows in the Faculty of Medicine are invited to connect and network with professionals working in a variety of different careers at their annual Career Day event!

Career Day 2022 is hosted by UBC Faculty of Medicine, Point grey campus in association with Vancouver Coastal Health Research Institute (VCHRI), Providence Health Care Research Institute, BC Children's Hospital Research Institute, The Centre for Blood Research, and Centre for Heart Lung Innovation (St Paul's Hospital).

When: Thursday, June 16th, 2022
Time: 12.30 PM – 4:30 PM PST
Where: Hybrid event. In-person at Life Sciences Centre (LSC 1003) and live stream on the Zoom platform (post registration you will receive a Zoom link before the event)


‌
‌

Funding Updates

WOMEN'S HEALTH RESEARCH FUNDING NEWS

CIHR Information Sessions for Trainees in Health Research – Join CIHR's free information session to learn about the various funding opportunities available to you, tips for success, training resources, and more.

Apply to join the first GROWW Cohort. GROWW is a Health Research Training Platform (HRTP) 2-year Cohort program that annually accepts a group of 20 competitively selected clinical trainees, graduate students, post-doctoral fellows, and ECRs from across Canada. Training program will include seminars from academics within the field of women's and girl's health, experiential learning opportunities and workshops, mentorship partners, a summer institute, and professional networking to help co-create new research and/or employment opportunities.

UPCOMING WOMEN'S HEALTH FUNDING

Need Assistance with research development, need a review for your proposal, or looking for Upcoming Funding Opportunities? Check out the WHRI Research Funding Hub , Upcoming Funding Opportunities, and #WHRIfunding Twitter Feed. Email Eric Lussier for assistance with developing a research idea, finding funding, grants applications or grants revisions. I am available every Tuesday from 8am-4pm for virtual office hour meetings with WHRI researchers, or at other times by appointment.

‌
‌

Research Project Management Community of Practice

Calling all research coordinators and managers on the Oak street campus to join in a community of practice to share experiences and build collective capacity!

At this fun and interactive kick-off event on June 22 in the Chan Auditorium or online, you will meet core members of the Research Project Management Unit (RPMU) at BC Children's Hospital Research Institute and hear from experts on research project management best practices.

The RPMU is developing a community of practice to support staff and students working on the Oak Street Campus who frequently work on research projects in the clinical and fundamental sciences areas (e.g. project managers, lab managers, research coordinators, administrative staff etc.).

In creating a Research Project Management Community of Practice, the RPMU hopes to provide a forum for the research community to come together, share their experience, and seek and provide advice on all things project management related.

To register for the event use the QR code below or go to: https://www.eventbrite.ca/e/research-project-management-community-of-practice-kick-off-at-cw-tickets-332069708437

‌
‌

ICYMI: WHRI Research Services Office Hour

The WHRI is pleased to introduce an office hour on the second Thursday of each month to discuss your research needs.

Connect with our Digital Health Manager, Research Development Facilitator, Knowledge Translation Manager, and Communications Coordinator to learn about our services and to get support for your projects.

Drop in virtually through Zoom or in-person in the H214 meeting room at the Women's Health Research Institute offices.

This month our office hour be held Thursday, June 9th from 10am-11am PST - join us and share your projects!

‌
‌

We're looking for a Postdoctoral Fellow!

BC Women's Hospital & Health Centre and Women's Health Research Institute are seeking a Postdoctoral Fellow (PDF) in the Complex Chronic Diseases Program (CCP) led by Dr. Luis Nacul for a 1-year term with a possibility of extension subject to funding. The position will be physically located at BC Women's Hospital Campus as part of Department of Family Practice, Faculty of Medicine at the University of British Columbia.

‌
‌

Are you an active Instagram user? Do you post on Instagram at least once every 1 to 2 weeks? We are looking for individuals who identify as women between ages 19 to 24 to participate in a survey related to Instagram and mental health!

We are currently conducting a research study to better understand the relationship between Instagram use and the psychological well-being of women! There are 2 phases of the project. In Phase 1, we will be asking participants who have public Instagram profiles to share their profiles with us. This survey will take approximately less than 5 minutes. With the information provided, the research team will screen capture the participant's profile including their bio and the nine (9) most recent photos to be included in Phase 2 of the project which consists of a survey.

Within 1 month after the research team has collected participants' Instagram profiles, we will contact you again to complete the survey in Phase 2 of the project. The survey will take approximately 30-40 minutes to complete.

If you're interested in participating, please email Mallorie Tam at mallorie.tam@ubc.ca.

‌