Perinatal Depression Awareness Month
Where can women turn when they're experiencing postpartum depression (PPD)? 

Madison Lackie, a Masters student working with Dr. Lori Brotto and the UBC Sexual Health Laboratory, is part of a team working on creating a web-enabled intervention option for PPD which would allow women to access evidence-based cognitive behavioural therapy from the comfort of their own home.
Postpartum depression affects approximately 10% of new mothers, and risk can increase 2-5 times in immigrant and indigenous populations. Madison's work is part of a multiphase research project, which seeks to address barriers to access of healthcare, especially for women in higher risk populations.
"We're hoping this will help to support care providers in communities across BC by providing additional care options for patients, especially while waiting for care to become available," Madison explains. "Some waitlists for specialized care for PPD can be upwards of a year, so providing something that can support women in the interim is very important!"
Since her research began, the team has established partnerships and networks throughout the province, and focus groups with non-Aboriginal Canadian women have begun and are nearing completion for groups in the Lower Mainland, Prince George, Victoria, and Kelowna. Focus groups with Indigenous and immigrant women will begin later this year.
Transcription has started and will be analyzed for emergent themes and how they compare across populations and locations in order to create an appropriate, culturally safe and sensitive treatment program. The app will be developed in partnership with a local web-technology development firm, and the team is looking into the use of artificial intelligence (AI) in app development, to enable a customized and adaptable user experience.
The team hopes to have enough data collected to begin developing a prototype later this year.
For more information on the project, click here.
Learn more about the Complex Chronic Diseases Program!
The Complex Chronic Diseases Program (CCDP) established in 2013 services the population of people in British Columbia living with Myalgic Encephalomyelitis/Chronic Fatigue Syndrome, Fibromyalgia and symptoms attributed to Chronic Lyme Disease. This unique program arose from patient advocacy and aims to provide comprehensive and evidence based care to patients. The main goals of the multidisciplinary team at the clinic are to provide clinical care, knowledge transfer, self-management support and conduct research including quality improvement.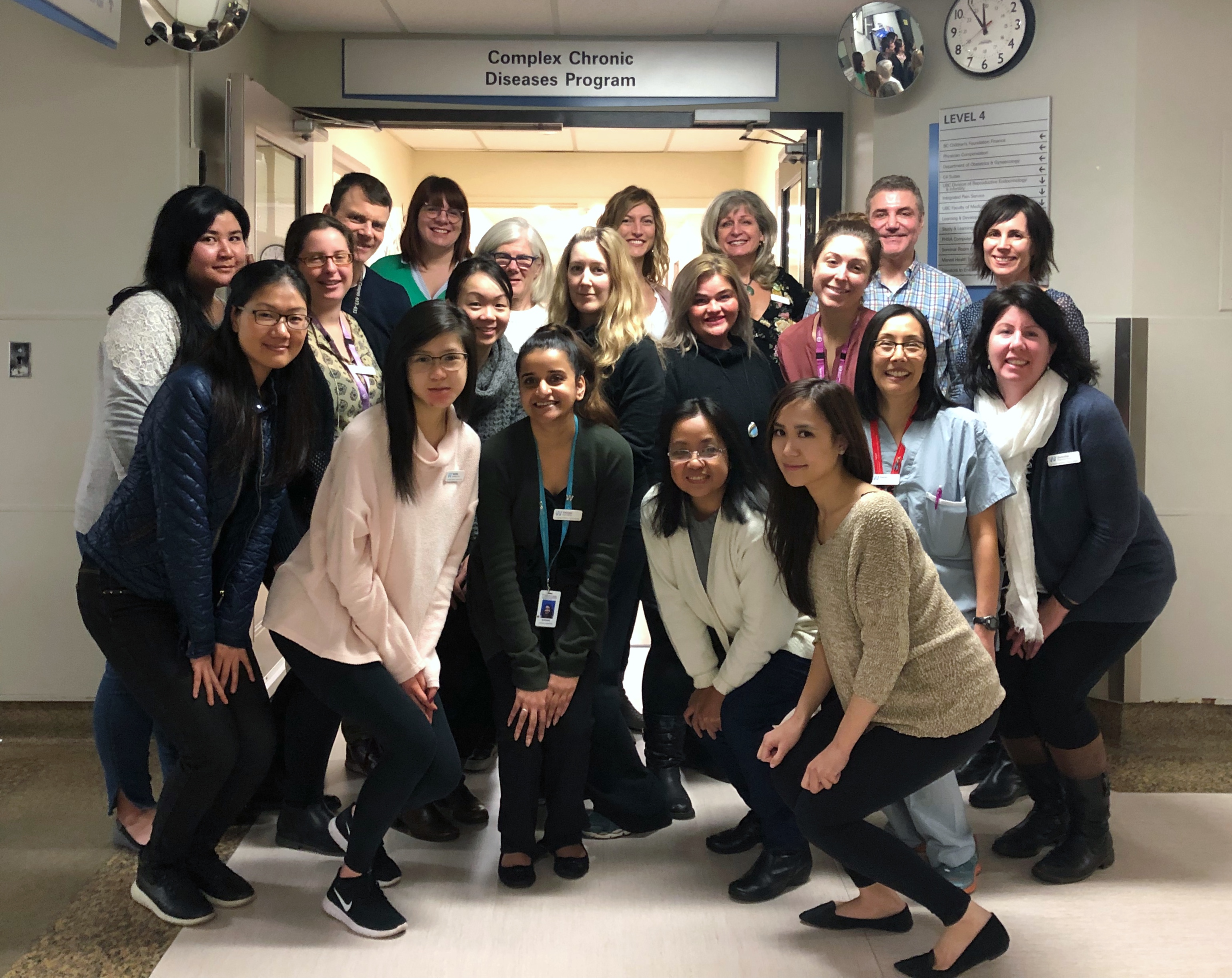 To improve patient flow and accommodate patients referred to the program, the team recently engaged the assistance of both internal partners (Strategic Transformation and Improvement team at BC Women's Hospital) and external partners at the UBC Sauder School of Business.  
As part of the research mandate of the CCDP, a prospective registry was created to describe our population and evaluate effectiveness of the Program. The registry, launched in the summer of 2017, has enrolled over 250 patients to date (Graph 1). With further input from Community members, we hope to improve recruitment and engage more patient participation in the registry.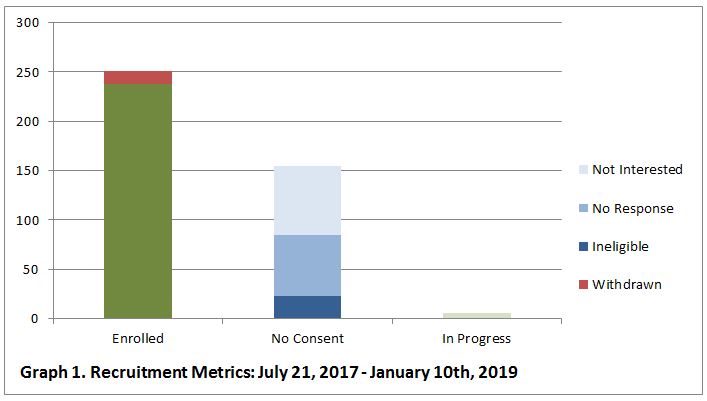 The inter-professional team at the CCDP showcased the program at the 1st Canadian Collaborative Team Conference in Montreal.  The inaugural meeting was organized to discuss advances and innovations in the study of ME/CFS and to facilitate collaboration across the country.
In addition, the CCDP received two significant accolades last year a) The Award of Excellence for Interprofessional Collaboration and b) PHSA+ Award was bestowed for exemplifying the PHSA value of leadership for bringing care into patients' home.
The new year brings exciting opportunities as the CCDP re-designs its program and utilizes virtual health delivery of care to more patients living with these conditions.
2019-2020 Global Health Trainee Grant
The Centre for International Child Health and the Medical Staff Association of BC Children's and Women's Hospital are working together to support trainees in health professions who are engaged in global health with clinical activities related to the health care of neonates, children, adolescents, or women. Funding is available in the amount of $1000 for trainees who elect to go on global health electives between February of 2019 and 2020 as part of their academic training. Candidates must be registered in a postgraduate medical training program, or be enrolled in a professional training program in British Columbia, which includes any health care discipline that leads to a professional designation.

Please visit the 2019-2020 Global Health Trainee Grant Application webpage for more information and to begin your application today!
Joanna Briggs Institute Database Access
Starting this month, PHSA clinicians, staff and researchers have access to the Joanna Briggs Institute (JBI) Database. JBI is recognized as a global leader in evidence-based health care, and is an international not-for-profit, research and development organization based at the University of Adelaide in Australia.
Through PHSA's JBI subscription, you will also have access to their Resource Centre with guides and manuals on how to maximize use of the database, evidence-based practice (EBP) tools, and full text journal articles from the JBI Database of Systematic Reviews and Implementation Reports.
Welcome to our new staff!

Dr. Kamal Arora

Dr. Arora is the new Research Manager of the Contraception and Abortion Research team, led by Dr. Wendy Norman.

Dr. Arora holds a PhD in Anthropology from UBC and a Masters in Gender and Development from the University of Sussex. In her last role, she served as Co-Director of the South Asian Studies Institute at the University of the Fraser Valley. Her research specialties include gender research, Sikhism, South Asian communities in Canada, and diversity and equity in higher education.

Nancy Vongxay

Nancy Vongxay is the new Administrative Coordinator working in the Global Control of HPV Related Diseases and Cancer department where she'll be taking on a new leadership role as the liaison for the student program in addition to providing administrative support to Dr. Gina Ogilvie, Assistant Director of WHRI.

Nancy comes to us from BC Cancer – Vancouver where she spent many years working in various administrative roles, and has dedicated her recent years supporting the Director of Clinical Research.

When she's not working, Nancy enjoys training for distance running, looking up recipes on Pinterest and planning for the next adventure!
Save the date!

Mark your calendars for the Interior Health / UBC-O Symposium which will be held February 27th at the Kelowna Yacht Club.

The event will feature local researchers and their work. Stay tuned for more details!
WomenDeliver2019@UBC Grants award up to $500 for projects that support advocacy for gender equality and the health, rights and well-being of women and girls.     
The next funding deadline is February 8th, 2019.

Click here for more information.
Join WHRI on March 7th at the Italian Cultural Centre to celebrate International Women's Day! This year our theme is "How to be your own best health advocate: Breast, Heart, and Gynecologic Screening", and speakers include Paula Gordon, Natasha Prodan-Bhalla, Maryam Zeineddin.

RSVP today!

CHILD-BRIGHT has launched its 2019 KT Innovation Incubator grant competition. The KT Innovation Incubator grant competition will award up to $12,000 to two knowledge translation research projects that aim to answer a research question related to knowledge translation and patient-oriented research.
Do you have research to share with the world? We are looking for research teams who would like to use our platform to showcase their work!

For more information email Melissa.
The Women's Health Research Institute (WHRI) is pleased to announce the launch of a pilot project in partnership with Perinatal Services BC that will provide streamlined and efficient access to data within the BC Perinatal Data Registry (BCPDR).

Read more.