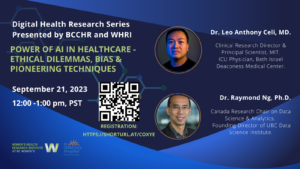 Are you interested in Artificial Intelligence (AI) and Digital Health? Join us on September 21, 2023, from 12:00 pm to 1:00 pm PST for an illuminating panel discussion about – "Power of AI in Healthcare -Ethical Dilemma, Bias & Pioneering Techniques." Discover how AI revolutionizes our Health!
The aim of this one-hour free virtual seminar is to provide participants with foundational knowledge that supports the integration of artificial intelligence technology in health research projects.
Where: The event will be held virtually via Zoom.
How: To secure your spot, please register through Eventbrite.