Donor support of the BC Women's Hospital + Health Centre Foundation enables programs at BC Women's improve, thrive and grow to meet the needs of women and their families with the best possible care.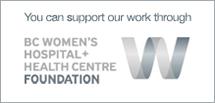 BC Women's Hospital + Health Centre is the only facility in British Columbia devoted exclusively to the health of women, newborns, and families. BC Women's focuses its research, teaching and care on women's health and the health of their families, including their emotional, mental, social, spiritual and physical well-being.
Research is a core component of all clinical activities throughout BC Women's. Through the Women's Health Research Institute, BC Women's works to advance knowledge and care for women, newborns, and their families, across British Columbia and around the world.
BC Women's Hospital + Health Centre Foundation raises funds to support BC Women's as a national leader in women's health. Donations to BC Women's Foundation are devoted exclusively to the health of women and newborns in British Columbia. For more information, please visit www.bcwomensfoundation.org
Click below to find out more about the BC Women's Foundation, and the donation options available online: